Festivities Honoring Reverend Dr. Martin Luther King Jr.
---
LAKELAND, FL (January 7, 2019) | The Lakeland Midtown Arts & Culture Organization and the Education & Enlightenment Group will be hosting a number of events honoring Dr. Martin Luther King Jr and MLK Day.  These events include a jazz concert taking place the evening of Friday, January 17th, the MLK Parade on Saturday, January 18th and the MLK Oratorical Contest on January 23rd. 
---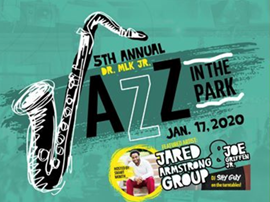 January 17 | The 5th Annual MLK Jazz in the Park event features the Jared Armstrong Group and Joe Griffin Junior, and it kicks off the 2020 Martin Luther King Jr. Day weekend of activities in Lakeland. The FREE concert takes place at Simpson Park on Friday, January 17th from 5:30 p.m. – 9 p.m. The event is free, so bring a lawn chair, a blanket and be prepared to hear wonderful jazz under the stars! Gates open at 5:30 p.m. 
---
January 18 | The MLK Day Parade takes place Saturday, January 18th and will begin at 11 a.m. The parade route will start on Providence Road at the 14th Street intersection. The parade will travel Providence Road then turn east onto 10th street before heading south on MLK Avenue. The parade will include professional floats, step groups, walkers, decorated vehicles and marching bands.
---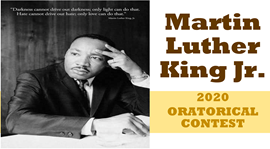 January 23 | The Martin Luther King, Jr. Youth Oratorical Contest will take place January 23rd from 7-9 p.m. at the New Mt. Zion Missionary Baptist Church located at 1321 North Webster Avenue.
Dr. Martin Luther King Jr. preached to care for your fellow man. If he were alive today, what would his message be?
This academic speaking challenge teaches students history and the importance to be able to think and speak clearly to an audience.
---
Contact
Kevin Cook
---
About Lakeland
The City of Lakeland was incorporated in January 1885 and has grown to become one of the largest inland communities in Florida.  With a current population over 100,000, Lakeland continues to grow. It has been designated a Standard Metropolitan Statistical Area by the US Census Bureau for over 30 years.  With tourist attractions and gulf beaches only an hour away, Lakeland continues to capitalize on its ideal central Florida location along the I-4 corridor.  The City owns and operates Lakeland Electric, the third-largest publicly owned utility in Florida and it was one of the first to offer power in the Sunshine State over 110 years ago.
For additional information about the City of Lakeland, please explore lakelandgov.net.
Citizens are also invited to follow the City on social media.