Hollis Garden Botanical Plan Sale: Tropiflora Presents Plantae Exoticum
---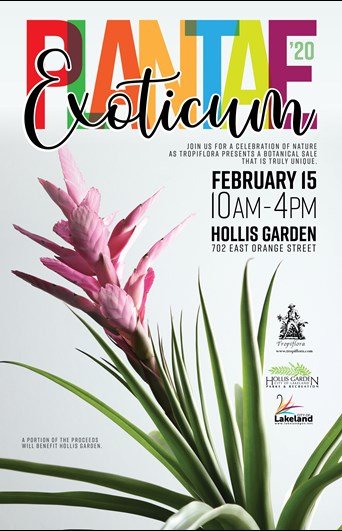 LAKELAND, FL (January 24, 2020) | The City of Lakeland's Parks & Recreation Department and Tropiflora will host the Sixth Annual Plantae Excoticum Botanical Plant Sale on Saturday, February 15th in Hollis Garden.  The event will take place between 10 a.m. and 4 p.m., and it is open to the public.  Visitors will have the opportunity to purchase a variety of plants such as Bromeliads, Succulents, Caudiciforms, Ferns, Air Plants, Orchids and Myrmecophytes from Tropiflora's eclectic inventory of exotic plants. If you're looking for an unusual exotic plant from the jungle or even the desert, this event is for you. 
Tropiflora is among the top producers in the world of collector-grade Bromeliads, Succulents and exotic tropical plants.  Based out of Sarasota, the nursery grows over 7,000 different varieties of plants that come from around the world. Many of their plants were collected as seeds and cuttings from more than 100 expeditions in 75 different countries, over a 35-year period. Three species of bromeliads - Aechmea cathcartii, Neoregelia cathcartii, and Vriesea cathcartii were discovered and introduced to science and cultivation because of Tropiflora's explorations. "We are very fortunate to partner with Tropiflora in offering this great opportunity to the citizens of Lakeland," said Kevin Polk, primary caretaker for Hollis Garden.  "We are building on the huge success of past events and we believe this year will be better than ever. We encourage visitors to get here early so they don't miss the chance to purchase plants that aren't typically found in local nurseries." 
Plant lovers will see some of their favorite plants and hopefully discover new and exciting species to add to their collection. Tropiflora will accept cash, credit cards and checks for payment.  A portion of the proceeds from the sale will benefit the perpetual care fund for the maintenance of Hollis Garden.  
Hollis Garden is a botanic utopia set in a neoclassical architectural environment complete with patterned flower beds, public art and water features. This manicured beauty boasts more than 10,000 flowers and features piped-in classical music to set the mood. Visitors are welcomed by the sight of running water and a classic fountain. Water is the foundation of life and these features invite visitors to drift through the themed rooms, the rose garden, grotto and butterfly trail. Hollis Garden is located at 702 E. Orange Street and visitors to the Garden immediately step into an oasis in the middle of downtown Lakeland.
Contact
Kevin Cook
---
About Lakeland
The City of Lakeland was incorporated in January 1885 and has grown to become one of the largest inland communities in Florida.  With a current population over 100,000, Lakeland continues to grow. It has been designated a Standard Metropolitan Statistical Area by the US Census Bureau for over 30 years.  With tourist attractions and gulf beaches only an hour away, Lakeland continues to capitalize on its ideal central Florida location along the I-4 corridor.  The City owns and operates Lakeland Electric, the third-largest publicly owned utility in Florida and it was one of the first to offer power in the Sunshine State over 110 years ago.
For additional information about the City of Lakeland, please explore lakelandgov.net.
Citizens are also invited to follow the City on social media. 
---