January 21st City Commission Meeting - Agenda at a Glance
---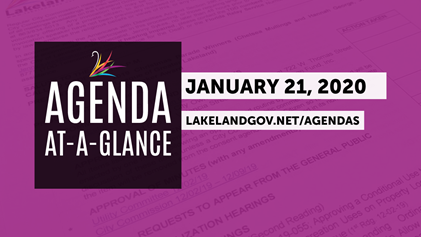 LAKELAND, FL (January 16, 2020) | The Agenda at a Glance includes highlights for the upcoming January 21st City Commission Meeting Agenda.  The full agenda and backup materials are available to view and download on our Agendas page. The Lakeland City Commission will discuss agenda items in detail at the Agenda Study session on Friday, January 17th starting at 8:30 a.m.  The public can watch Agenda Study Sessions, City Commission Meetings as well as Committee Meetings live on Spectrum 643, FiOS 43 and streamed on LakelandGov TV.
LakelandGov TV Live Meeting Broadcast Schedule
---
Committee Report
The Real Estate & Transportation Committee will discuss the purchase of right-of-way located at North Wabash Avenue.  Parcel 111 is the final piece of land to be acquired for the North Wabash Extension. The North Wabash Avenue Extension is a 0.85-mile project that will connect N. Wabash Avenue with Fairbanks Street. The project will provide a two-lane roadway, six-foot wide sidewalks, street lighting, new railroad crossing, stormwater drainage and an improved intersection at 10th Street with a new traffic signal. The City and property owner have reached an agreement on the purchase price ($380,050) that includes land cost, legal fees and fencing.
---
Public Hearings – Ordinances for 2nd Reading
This is when the public is invited to share opinions and concerns about these agenda items. Item one is an update to the Capital Improvement Element of the Lakeland Comprehensive Plan that includes the five-year schedule for capital improvements. Item two is a conditional use to allow for a 700 sq.ft. garage apartment located at 829 Pennsylvania Avenue. Item three is a conditional use to allow a laundry mat at 605 West Memorial Boulevard. Item four and five pertain to a change to the future land map and zone classification to allow a regional activity center on 2.8 acres located north of Martin Luther King, Jr. Avenue, west of Kathleen Road and east of George Jenkins Boulevard. Item six and seven include a change to the future land use map and a modification to zoning to allow a 96-bed behavioral health facility on 9.98 acres located just south of the existing Lakeland Regional Health Systems campus at 1324 Lakeland Hills Boulevard.
---
City Manager
The Florida Legislature created the Consultant's Competitive Negotiation Act that requires state agencies, municipalities, school boards and school districts to select professional consulting firms based on qualifications rather on a lowest bid. The City Manager will recommend Continuing Contract Agreements with the top firms that submitted qualifications for Park Planning Consultant Services. The agreements will be executed for a period of three years with options for extension. No firm is guaranteed work if none is required. The City Manager will also recommend a reimbursable agreement with the Federal Aviation Administration (FAA) for upgrades and improvements at Lakeland Linder International Airport that includes a new instrument landing system for Runway Nine. The agreement notifies the public that the increased project costs will be paid from an additional $60,558 in FAA grant revenues and $15,140 from airport operations surplus.
---
City Attorney
This portion of the agenda includes a modification to land use regulations on 724.4 acres near I-4. This triangle shaped piece of property is bordered by the Polk Parkway, Old Tampa Highway and Gay Road. A planned development is proposed on the property with a number of phases that includes commercial, office, retail and multi-family units.  This is a lengthy agenda item with a number of land use regulations. The City Attorney will also bring a resolution that executes an agreement with the Florida Department of Transportation as part of the North Wabash Avenue Extension Project. The State of Florida Fire Prevention Code has been amended to add requirements for the installation and inspection of two-way radio systems in certain structures and the current fee schedule must be amended to include the new state requirements.
---
Reminders
During Agenda Study sessions, the City Commission will discuss each agenda item in detail for the upcoming Tuesday, January 21st City Commission Meeting. This public meeting takes place in the City Commission Conference Room starting at 8:30 a.m.
---
Media Contact
Kevin Cook
---
About Lakeland
The City of Lakeland was incorporated in January 1885 and has grown to become one of the largest inland communities in Florida.  With a current population over 100,000, Lakeland continues to grow. It has been designated a Standard Metropolitan Statistical Area by the US Census Bureau for over 30 years.  With tourist attractions and gulf beaches only an hour away, Lakeland continues to capitalize on its ideal central Florida location along the I-4 corridor.  The City owns and operates Lakeland Electric, the third-largest publicly owned utility in Florida and it was one of the first to offer power in the Sunshine State over 110 years ago.
For additional information about the City of Lakeland, please explore lakelandgov.net.
Citizens are also invited to follow the City on social media. 
---