Parks & Recreation Tree Crews Will Remove 15 Diseased Trees on Southington Avenue
---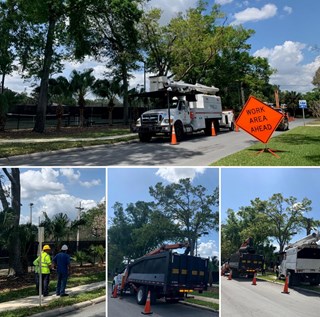 LAKELAND, FL (March 11, 2020) | The City of Lakeland Parks & Recreation Department has started the process of removing 15 trees that overhang the courts at the Beerman Family Tennis Center. The Laurel Oaks on Southington Avenue next to the tennis courts are declining in health due to dieback. The damage caused to the vascular system prevents water from reaching the leaves. As a result, trees begin to lose vigor and show symptoms of dieback. Depending on the natural resistance of the tree and environmental factors, this disease can be deadly to Laurel Oaks. Dieback is a disease characterized by progressive death of twigs, branches, and roots that starts at the tips. 
Director of Parks & Recreation Bob Donahay said, "Removing 15 diseased trees will take about one week to complete. Unfortunately, these species of trees do not fare well with the pruning that is required to maintain safe playing conditions for the tennis courts so we are going to remove them."
The Laurel Oaks on Southington Avenue were trimmed approximately six weeks ago and the dead wood was removed at that time. Many additional limbs have died since the pruning, and that is why the trees were assessed for removal.  Parks & Recreation tree crews are on site now trimming the dead limbs as they prepare to fully remove the diseased trees.
Donahay said, "Once the diseased Laurel Oaks are completely removed, we will replace them with Palms, Crape Myrtle or much hardier Live Oaks.  We find through our experience with Laurel Oaks, large branches often hollow from decay and wood rot. In fact, during Hurricane Irma, approximately 70% of the trees that toppled were Laurel Oaks. Live Oaks are more resistant to decay and live longer."
Located across from Cleveland Heights Golf Course and within walking distance of Lake Hollingsworth, Beerman Family Tennis Center has 16 lighted hard surface tennis courts. The tennis center is located at 1000 East Edgewood Drive adjacent to Common Ground, the City's accessible playground area.
Contact
Kevin Cook
---
About Lakeland
The City of Lakeland was incorporated in January 1885 and has grown to become one of the largest inland communities in Florida.  With a current population of over 100,000, Lakeland continues to grow. It has been designated a Standard Metropolitan Statistical Area by the US Census Bureau for over 30 years.  With tourist attractions and gulf beaches only an hour away, Lakeland continues to capitalize on its ideal central Florida location along the I-4 corridor.  The City owns and operates Lakeland Electric, the third-largest publicly owned utility in Florida and it was one of the first to offer power in the Sunshine State over 110 years ago.
For additional information about the City of Lakeland, please explore lakelandgov.net.
Citizens are also invited to follow the City on social media. 
---