Downtown Parking Changes Around Lake Mirror, S Massachusetts & S Missouri Avenue
---
LAKELAND, FL (October 14, 2020) | There will be modifications to the City's downtown parking starting Monday, October 19th with the most notable changes taking place around Lake Mirror.  The City's parking team recently met with downtown stakeholders and that meeting sparked a planning session with the goal to generate additional parking uses in front of the Joinery, the new Catapult facility, and the Lake Mirror Complex. 
Interim City Manager Shawn Sherrouse said, "We currently have 16 on-street free parking spaces on East Main Street that have very little turnover throughout the day because there is no time limit. Starting Monday, October 19th,  these free and unlimited spaces will become Two Hours Free. According to traffic operations, this slight modification to our overall parking plan will generate 40-50 unique parking uses as opposed to the same 20 or so vehicles that are parking in those spaces now."
In addition to the changes taking place around Lake Mirror, the parking spaces on South Massachusetts Avenue (between Orange St. and Lake Morton) will change to free/unlimited parking.  These 16 spaces were Two Hours Free but now users don't have a time restraint. The west side of South Missouri Avenue (Orange Street to Lime Street) will still be Two Hours Free but additional time (up to six additional hours) will be $0.25 per hour instead of $1 per hour.
Angelo Rao, Manager of Traffic Operations and Parking Services said, "We try and balance commerce and sensibility when making decisions like this. We don't want these parking changes to adversely affect persons on limited incomes, especially when a lot of our restaurant personnel have been impacted by COVID-19 related economic challenges."  He added, "We still have a number of Free Unlimited spaces in our downtown area with 38 spaces at the Park & Ride lot across from the Fire Station, 46 spaces at the Lake Avenue lot, 135 spaces at the Lake Mirror/Peggy Brown Building lot and 24 spaces of on-street parking along Lake Avenue."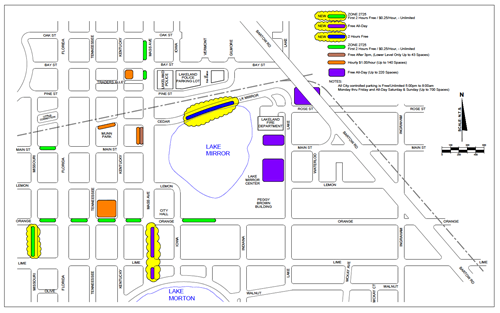 Click to view Interactive PDF
Contact
Kevin Cook
---
About Lakeland
The City of Lakeland was incorporated in January 1885 and has grown to become one of the largest inland communities in Florida.  With a current population of over 100,000, Lakeland continues to grow. It has been designated a Standard Metropolitan Statistical Area by the US Census Bureau for over 30 years.  With tourist attractions and gulf beaches only an hour away, Lakeland continues to capitalize on its ideal central Florida location along the I-4 corridor.  The City owns and operates Lakeland Electric, the third-largest publicly owned utility in Florida and it was one of the first to offer power in the Sunshine State over 110 years ago.
For additional information about the City of Lakeland, please explore lakelandgov.net.
Citizens are also invited to follow the City on social media. 
---