Lakeland City Commission Will Go Back to 9 AM Morning Meetings Starting in June
---
 City Commission Meets the First & Third Monday of the Month
---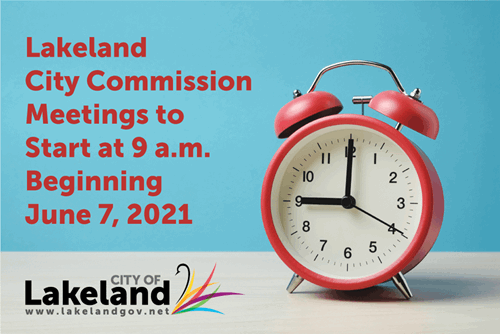 LAKELAND, FL (April 22, 2021) | Starting with the first City Commission meeting in June, the Lakeland City Commission will go back to meeting at 9 a.m. in the City Commission Chambers located at City Hall (228 South Massachusetts Avenue).  Two years ago, the Lakeland City Commission decided to look at an afternoon option after meeting at 9 a.m. for decades.  The consensus of the Commission was to try afternoon meetings to see if audience participation would increase.
The issue to move the meetings back to the morning was brought up by Interim City Commissioner Don Selvage during a recent Agenda Study session.  The City Commission voted 6-1 on Monday, April 19th to officially go back to 9 a.m. meetings. City commission meetings will move from 3 p.m. back to 9 a.m. on Mondays starting June 7, 2021. Commissioner Stephanie Madden stated that she would have liked additional public input and was the dissenting vote. City Commission meetings are held on the first and third Monday of each month at City Hall. The Utility Committee meetings, where the operations of municipal-owned Lakeland Electric are discussed, will move from 1 p.m. on Mondays to 11 a.m. on the Fridays before the scheduled City Commission meetings. 
Interim Commissioner Don Selvage said, "I know the purpose of going to a 3 p.m. meeting was to make it more accessible to the general public but I have not seen a demonstrable increase in participation by having it in the afternoon." Selvage said being back on the dais for four months during the COVID-19 pandemic may have influenced his view but he believes the virus has brought about other changes.
Lakeland commission meetings can be watched online via live streaming on the City's website at lakelandgov.net as well as broadcast on cable networks Spectrum Channel 643 and FiOS Channel 43. Selvage said part of his reason to initiate the change was because residents often voice their opinions to officials and advocate for issues through social media, or more directly via emails and phone calls rather than at the live meetings.
Contact
Kevin Cook
Director of Communications
City of Lakeland
863.834.6264
Kevin.Cook@LakelandGov.net
---
About Lakeland
The City of Lakeland was incorporated in January 1885 and has grown to become one of the largest inland communities in Florida.  With a current population of over 100,000, Lakeland continues to grow. It has been designated a Standard Metropolitan Statistical Area by the US Census Bureau for over 30 years.  With tourist attractions and gulf beaches only an hour away, Lakeland continues to capitalize on its ideal central Florida location along the I-4 corridor.  The City owns and operates Lakeland Electric, the third-largest publicly owned utility in Florida and it was one of the first to offer power in the Sunshine State over 110 years ago.
For additional information about the City of Lakeland, please explore LakelandGov.net.
Citizens are also invited to follow the City on social media. 
---