Public Notice: CSX Railroad Crossing Repairs and Traffic Signal Rebuild at County Line Rd. & US 92 (New Tampa Hwy./E. Baker St.)
---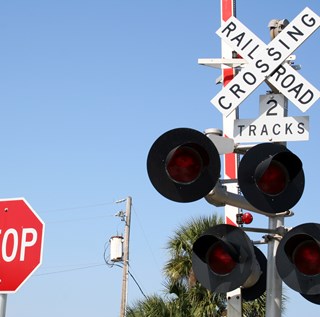 County Line Road CSX Closure Detour Map
LAKELAND, FL (September 21, 2021) - The City of Lakeland is starting a project that includes CSX railroad crossing repairs and a complete crossing signal rebuild at County Line Road and US92.  The project is scheduled to begin Monday, September 27th at County Line Road and US92 (New Tampa Highway).  The CSX portion of the project is scheduled to be completed two weeks after it starts.
A northbound left-turn lane and a northbound right-turn lane will be added as part of the project, along with median modifications at the intersection of County Line Road and Old Tampa Highway.  The total cost of this improvement project is $2.27 million.
The rail crossing will be completely re-constructed with new gates and the installation of new signals. The attached detour route will be used starting September 27th.  The railroad crossing portion of the project is expected to take about two weeks to complete. Signal and gate work will occur later in the project.  Message boards are already in place along the construction route to alert the public about the upcoming construction.
Roadway improvements will include the construction of new signalization with mast arms, the addition of dual left turn lanes on the northbound approach, the addition of a concrete median between the southbound lane and the northbound, paving the roadway, pedestrian improvements, minor drainage improvements, milling and resurfacing, guardrail, curb, and gutter, and signing and pavement marking on County Line Road and US92.
 The City of Lakeland regrets any delays that may be experienced during this time, along with traffic disruption resulting from this closure. Due to longstanding statutory entitlements, CSX has considerable authority to close their crossings along public and private roadways. The City of Lakeland recognizes these repairs are necessary and will make for better, safer driving conditions when completed. To report a rail crossing issue or complaint, contact CSX at (877) 835-5279 or TellCSX@csx.com. The complete project that includes the roadway improvements is contracted for 220 days which puts the project completion date March 2022.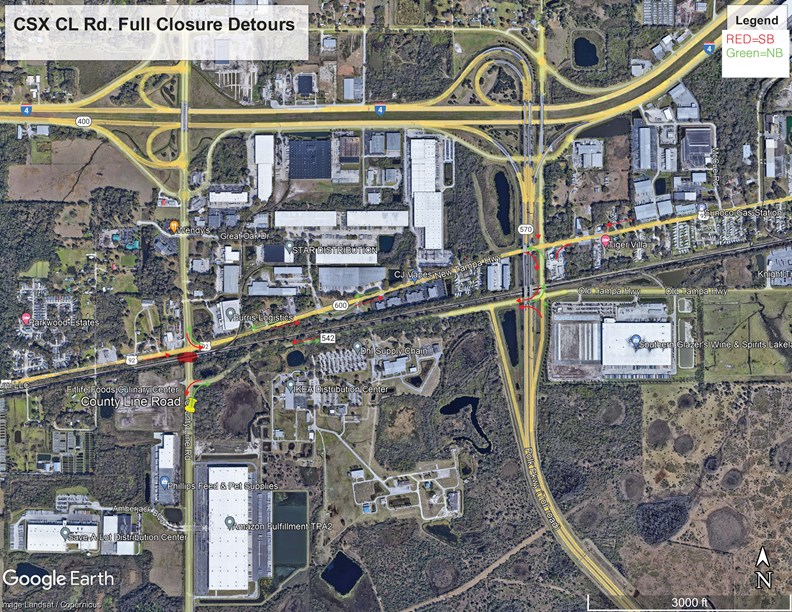 ---
Contact
Kevin Cook
Director of Communications
City of Lakeland
863.834.6264
Kevin.Cook@LakelandGov.net
---
About Lakeland
The City of Lakeland was incorporated in January 1885 and has grown to become one of the largest inland communities in Florida.  With a current population of over 100,000, Lakeland continues to grow. It has been designated a Standard Metropolitan Statistical Area by the US Census Bureau for over 30 years.  With tourist attractions and gulf beaches only an hour away, Lakeland continues to capitalize on its ideal central Florida location along the I-4 corridor.  The City owns and operates Lakeland Electric, the third-largest publicly owned utility in Florida and it was one of the first to offer power in the Sunshine State over 110 years ago.
For additional information about the City of Lakeland, please explore LakelandGov.net.
Citizens are also invited to follow the City on social media.