Public Notice: Sewer Repair Will Impact Lakeland Square Mall Access Rd.
---
LAKELAND, FL (November 3, 2022) - The Water Utilities Wastewater Collection Division will repair and replace a failing sewer main that crosses the Lakeland Square Mall Access Road between the Chili's Restaurant and the Rooms-To-Go store on US Highway 98 North. Older clay and cast-iron pipes will be replaced with PVC.  Crews are unable to determine the exact issue at this time because the remote camera can't get through the failed pipe.
Wastewater crews anticipate the repair will take up to two weeks to complete because of the depth of the sewer main and the construction area has adjacent utilities that may be impacted. Closure of the Lakeland Square Mall Access Road will begin Saturday, November 5th at 6:00 a.m. and will continue as a 24 hour per day closure until completion. During the project, motorists will need to access the Lakeland Square Mall from one of the other mall entrances. Access to the businesses adjacent to the closure will still be available from the mall side, but just not directly from US Highway 98. Road closure and detour signs will be in place to notify motorists. This is an emergency repair with funding allocated from contingency funds.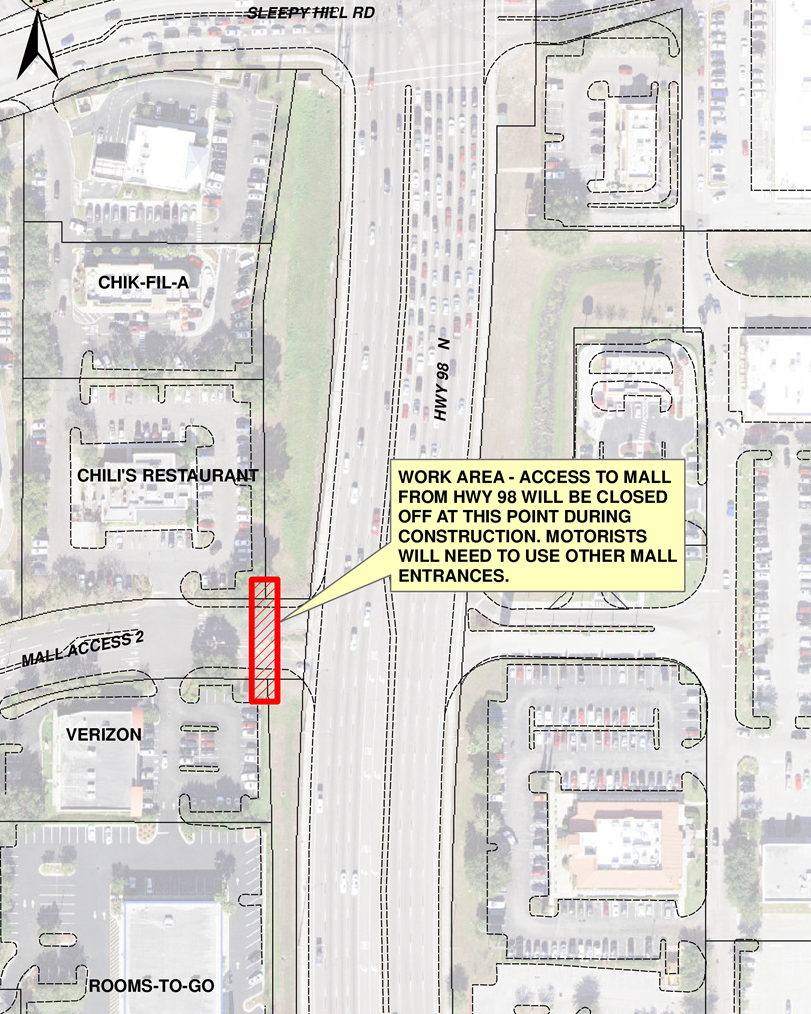 ---
Contact
Kevin Cook
Director of Communications
City of Lakeland
863.834.6264
Kevin.Cook@LakelandGov.net
---
About Lakeland
The City of Lakeland was incorporated January 1885 and has grown to become one of the largest inland communities in Florida.  With a current population of over 100,000 Lakeland continues to grow. It has been designated a Standard Metropolitan Statistical Area by the US Census Bureau for over 30 years.  With tourist attractions and gulf beaches only an hour away, Lakeland continues to capitalize on its ideal central Florida location along the I-4 corridor.  The City owns and operates Lakeland Electric, the third largest publicly owned utility in Florida and it was one of the first to offer power in the Sunshine State over 115 years ago. 
For additional information about the City of Lakeland, please visit www.lakelandgov.net.  Citizens are also invited to follow the City on Facebook, Twitter, Instagram, YouTube, Vimeo, Snapchat and Nextdoor.  Citizens can find the City of Lakeland on these social media platforms by searching lakelandgov. 
For additional information about the City of Lakeland, please explore LakelandGov.net.
Citizens are also invited to follow the City on social media. 
---