Selfies With Santa Returns To Hollis Garden December 10th: City News Blog
---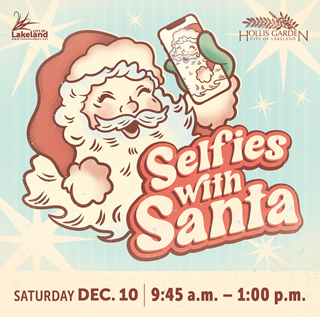 LAKELAND, FL (Nov 21, 2022) | Take your photo with Santa in the beautiful Hollis Garden. On Saturday, December 10th, 2022, Hollis Garden will be hosting the Second Annual Selfies with Santa event.  This year, the gates open at 9:45 a.m. and Santa will be available for pictures until 1:00 p.m.   Reservations are not required, just be sure to bring your own camera! 
The first 100 guests will receive this year's unique Hollis Garden holiday ornament (one per family/group).  In addition to pictures with Santa, there will be several other photo op locations and fun events, including a "Santa's Check-List" full of games, goody bags and craft stations (while supplies last).
Selfies with Santa is a FREE event, but we are excited to be partnering with One More Child and their Operation Merry Christmas again this year.  Our goal is to collect enough toy donations to fill a sleigh! We ask that you bring a toy or item from their Wishlist so we can help spread the holiday cheer with those less fortunate.  Please visit https://onemorechild.org/wp-content/uploads/2022/11/2022-OMC-Christmas-List.pdf to see a full list of the items needed to help fulfill a Christmas wish for a vulnerable child.  Vendors will be on location at Hollis Garden selling holiday themed snacks and beverages for the event. 
Hollis Garden is a botanical display garden set in a neo-classical architectural environment complete with patterned flower beds, public art, and ornamental fountains. Hollis Garden is a formal garden, on a 1.2-acre site located within historic Lake Mirror Park. Here you will find over 10,000 flowers, ornamental shrubs, and native trees. So, bring your camera and an item to benefit One More Child to Hollis Garden for Selfies with Santa on Saturday, December 10th.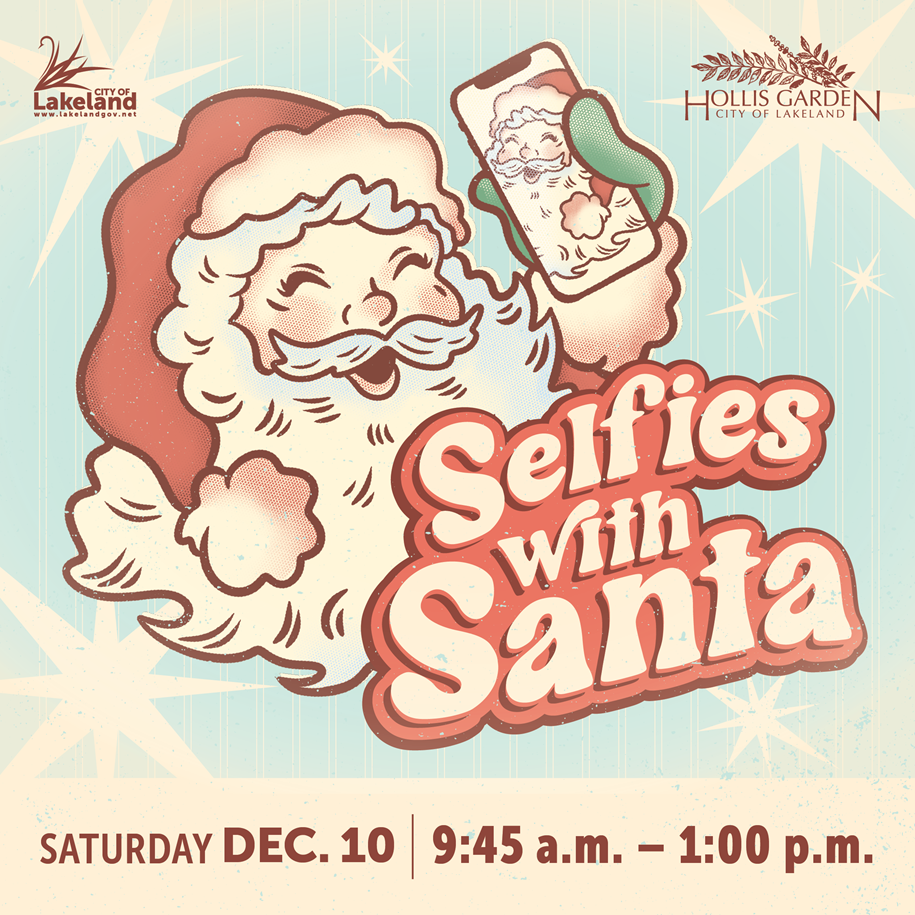 ---
Contact
Kevin Cook
Director of Communications
City of Lakeland
863.834.6264
Kevin.Cook@LakelandGov.net
---
About Lakeland
The City of Lakeland was incorporated January 1885 and has grown to become one of the largest inland communities in Florida.  With a current population of over 100,000 Lakeland continues to grow. It has been designated a Standard Metropolitan Statistical Area by the US Census Bureau for over 30 years.  With tourist attractions and gulf beaches only an hour away, Lakeland continues to capitalize on its ideal central Florida location along the I-4 corridor.  The City owns and operates Lakeland Electric, the third largest publicly owned utility in Florida and it was one of the first to offer power in the Sunshine State over 115 years ago. 
For additional information about the City of Lakeland, please visit www.lakelandgov.net.  Citizens are also invited to follow the City on Facebook, Twitter, Instagram, YouTube, Vimeo, Snapchat and Nextdoor.  Citizens can find the City of Lakeland on these social media platforms by searching lakelandgov. 
For additional information about the City of Lakeland, please explore LakelandGov.net.
Citizens are also invited to follow the City on social media. 
---