---
The City of Lakeland is currently offering up to $100 per toilet rebate to replace Commercial and Residential high-flow toilets using 3.5 gallons or more per flush with 1.28 gallons per flush WaterSense® toilets.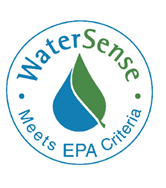 Look for the WaterSense label! 
Participation will help Lakeland meet its water conservation goals and could save you water and money on your utility bill.
---
Qualifications:
Active Commercial or Residential City of Lakeland Water Utility customer (Your water is purchased from the City of Lakeland)
Homes with private water wells DO NOT qualify for this program
Toilet being replaced is 3.5 gallons per flush or greater (If home was built before 1994, and the toilet has not been replaced since 1995, then toilets will qualify) Keep in mind we will need pictures of the old toilet for documentation. 
Old toilet(s) will NOT be re-installed at any location, and will be rendered unusable or disposed of
New toilet is a 1.28 gallons per flush WaterSense® labeled toilet (NOT the 1.6 gallons per flush)
New toilets installed prior to October 2020 do not qualify
If new toilets have already been installed, in addition to meeting the above qualifications, you must have: your new toilet receipt; and either the old toilet itself, or a picture of the old toilet in place along with a picture of the year stamp or GPF inside the toilet tank proving that it is high-flow (No exceptions are allowed)
Limit 2 toilets per household for residential
---
How to tell whether your toilet qualifies for the rebate:
If your home was built in or before 1989, and no one has installed new toilets since, then your toilets are high-flow and qualify.
If your home was built in or after 1995, or you purchased and installed new toilets in or after 1995, then your toilets are already low-flow and do not qualify.
If your home was built in 1990-1994, or if you installed toilets in those years, or you don't know whether new toilets have been installed, look at the toilet to determine whether it's high or low flow:
Look right behind the seat hinge on the bowl to see if there is a label with the "gpf" listed.

If the gpf is 3.5, 5, or 7, then your toilet is high-flow and qualifies.
If the gpf is 1.6 or 1.28 then your toilet is low-flow and does not qualify.
If there is no gpf listed, go to the next step.

Take the tank lid off and check the inside back of the toilet tank for the manufacturer's date stamp, which is usually stamped directly into the porcelain.

If the year is 1989 or before then your toilet qualifies.
If the year is 1990-1994, and there are no other marks on the toilet to indicate gallons per flush or gpf, then the toilet qualifies.
If the year is 1995 – present, then your toilet is low-flow and does not qualify.
---
Choosing a Toilet
Make sure that the new toilet is WaterSense labeled, and is 1.28 GPF or better.  While a particular MaP score isn't a requirement, you may also want to make sure your new toilet has a MaP score of 350g or better so that you get strong flushing power.  The higher the MaP score/rating, the stronger the flush and the highest score is 1000g.  You can find this score in the specifications of online toilet model descriptions, or you can search for it here:  http://www.map-testing.com/map-search/ 
---
Participate
Please fill out the application here. 
---
Questions
If you have questions or want to submit the application, please contact:
Brittany Thornton
City of Lakeland Water Conservation Specialist
SaveWater@LakelandGov.Net
863.834.6193