Lakeland Electric Received Florida Municipal Electric Association Restoring Communities Award
---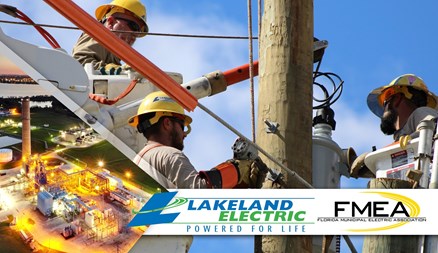 Lakeland, FL (March 25, 2020) | Lakeland Electric was recently recognized by the Florida Municipal Electric Association (FMEA) with a Restoring Communities Award. The award, sponsored by Burns and McDonnell, recognizes public power utilities that have either provided or received mutual aid following significant weather events in the state, as well as utilities that have provided mutual aid assistance for day-to-day operations to fellow FMEA members in need.
"Lakeland Electric is proud to receive this award," said Joel Ivy, Lakeland Electric General Manager. "We take the responsibility of providing affordable, dependable, and sustainable electric service very seriously. We work hard year-round to always be ready to meet the needs of our community in times of crisis. When called upon, we are honored to help other communities in need."
"From weather events to hurricane threats to assistance with major utility projects, our members are there for one another in times of need," said Amy Zubaly, FMEA Executive Director. "This network of communities supporting other communities is one of the strengths of public power and, we're so proud of all they have done for one another this past year."
Utilities were awarded based on restoration times, customer communications efforts and the levels of mutual aid provided. Lakeland Electric was among 14 Florida public power utilities honored.
"As an employee-owned company, we understand what it is like to be deeply invested in the places we work and live. Public power shares this level of commitment not only to their hometowns but also to their fellow public power communities. We are proud to sponsor the FMEA Restoring Communities Award and recognize the work public power communities do to provide assistance in times of need," said Rich Mahaley, Burns & McDonnell Vice President of Florida Operations.
Mutual aid agreements enable municipal utilities to call on each other for emergency workers and supplies. Florida's public power utilities benefit from this strong network of partners within Florida and across the country through the American Public Power Association. Florida's public power communities also have forged mutual aid arrangements with Florida's investor-owned utilities. These dependable connections create a reliable system where member utilities both request and offer assistance.
---
 About FMEA: The Florida Municipal Electric Association (FMEA) represents the unified interests of 33 public power communities across the state, which provide electricity to more than 3 million of Florida's residential and business consumers.
---
View this and more on the Lakeland Electric News Blog. 
---