Canned Tuna Concerts Will Take Place in Munn Park
---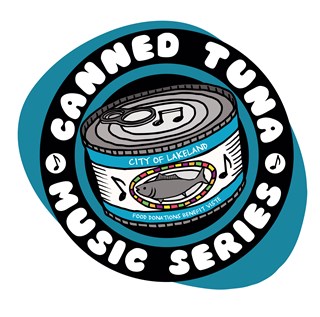 Quarterly Music Series Will Highlight Local Musicians
LAKELAND, FL (July 23, 2021) | The City of Lakeland will be hosting a new live music series called the Canned Tuna Concerts that will take place in Munn Park starting September 17th from 6 p.m. – 8 p.m. Local favorite Dan Signor will start the quarterly music series that will highlight local musicians. Those attending the music series are invited to bring a can of tuna or another non-perishable food item to benefit Volunteers in Service to the Elderly (VISTE). The eclectic Canned Tuna series includes all genres of music: folk, rock, funk, and even some southern twang.
---
Canned Tuna Concert Series Schedule
September 17, 2021
Dan Signor Project
Rescheduled (New date to be announced)
REX FLOYD Tribute to PINK FLOYD
March 18, 2022
Andrew Luv & The Franchise Players
June 17, 2022
Ben Meyer & the Dirty Yank
---
The Dan Signor Project sets the musical bar very high, and he will bring his jazzy, funky, folk-like approach to Munn Park for the Canned Tuna music series inaugural show. He promises to deliver the perfect performance to start the series, with soulful vocals accompanied by his vibrant piano style. Whether he and his musical guest showcase their collective works or perform a brilliantly arranged cover song, the Dan Signor Project always leaves the crowd wanting more. Signor said, "I'm excited to play in the center downtown Lakeland. It is going to be a fun night, and I'll be the one of the first to bring a can of tuna to benefit VISTE as we kick-off the series!"
REX FLOYD celebrates the diversity of Pink Floyd's iconic album legacy of epic and unique songs from Ummaguma, Meddle, Dark Side of the Moon, Wish You Were Here, Animals, and The Wall. The surreal music appeals to those who seek enlightened thought with provocative edgy lyrics from gutwrenching laments of injustice to mystical explorations of seen and unseen worlds. Gus Palas, a member of REX FLOYD, said, "We are looking forward to an excellent event, and we have a few surprises for the evening that may include a few songs fitting for the holidays."
Andrew Luv will bring the Franchise Players to the center of Munn Park on March 18, 2022. The group's blend of Soul, Pop, Smooth Jazz, Hip Hop, is unique and Andrew promises a refreshing musical experience for the first Canned Tuna show in 2022. 
Ben Meyer & the Dirty Yank will perform their own brand of rockabilly melded with a pinch of classic country, a touch of southern rock, and a smidge of blues when they take the stage on June 17, 2022.
All Canned Tuna Concert shows will occur in Munn Park, located at 201 East Main Street in downtown Lakeland. These free, family-friendly shows will begin at 6 p.m. and end at 8 p.m. Those attending are asked to bring a can of tuna or a non-perishable food item to benefit VISTE. City Manager Shawn Sherrouse said, "A few decades ago there was a Canned Tuna Concert that took place in Munn Park and we are excited to bring a music series to the town square. We are featuring local talent and we are pleased to announce that Dan Signor will take the stage for our first show.  Bring a non-perishable food item, your favorite blanket or chair and enjoy a great evening of live entertainment."
Contact
Kevin Cook
Director of Communications
City of Lakeland
863.834.6264
Kevin.Cook@LakelandGov.net
---
About Lakeland
The City of Lakeland was incorporated in January 1885 and has grown to become one of the largest inland communities in Florida.  With a current population of over 100,000, Lakeland continues to grow. It has been designated a Standard Metropolitan Statistical Area by the US Census Bureau for over 30 years.  With tourist attractions and gulf beaches only an hour away, Lakeland continues to capitalize on its ideal central Florida location along the I-4 corridor.  The City owns and operates Lakeland Electric, the third-largest publicly owned utility in Florida and it was one of the first to offer power in the Sunshine State over 110 years ago.
For additional information about the City of Lakeland, please explore LakelandGov.net.
Citizens are also invited to follow the City on social media. 
---