Beacon Road Sidewalk Enhancement Project; Construction Slated for Fall/Winter 2021
---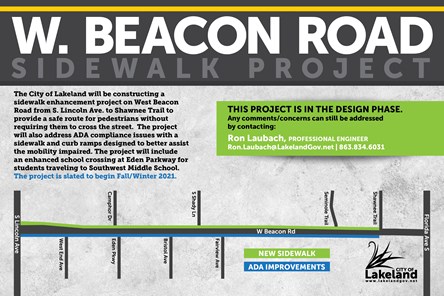 LAKELAND, FL (May 12, 2021) | The City of Lakeland will be constructing a sidewalk enhancement project on West Beacon Road from S. Lincoln Avenue to Shawnee Trail to provide a safe route for pedestrians without requiring them to cross the street.  The project will also address ADA compliance issues with a sidewalk and curb ramps designed to better assist the mobility impaired. The project will include an enhanced school crossing at Eden Parkway for students traveling to Southwest Middle School.  The project is slated to begin Fall/Winter 2021.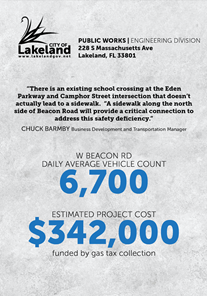 In 2018, the City of Lakeland received a request to construct a new sidewalk on the north side of Beacon Road between Lincoln Avenue and South Florida Avenue.  Chuck Barmby, Business Development and Transportation Manager said, "There is an existing school crossing at the Eden Parkway and Camphor Street intersection that doesn't actually lead to a sidewalk.  A sidewalk along the north side of Beacon Road will provide a critical connection to address this safety deficiency."
Beacon Road is an urban collector with 6,700 vehicles per day on average that travel the roadway.  Right now the roadway is not compliant but installing a sidewalk on the north side of Beacon Road will bring the area into compliance with the City Engineering Standards Manual for an urban collector.
The project is estimated to cost $342,000 and is funded by gas tax collections through the City of Lakeland's transportation fund. Gas taxes are the main source of funds available for local governments to make street improvements, including sidewalks, bike lanes and traffic signals.  Gas taxes are the primary funding source for the maintenance and operation of local roadway systems being used by an ever-increasing population.
Contact
Kevin Cook
Director of Communications
City of Lakeland
863.834.6264
Kevin.Cook@LakelandGov.net
---
About Lakeland
The City of Lakeland was incorporated in January 1885 and has grown to become one of the largest inland communities in Florida.  With a current population of over 100,000, Lakeland continues to grow. It has been designated a Standard Metropolitan Statistical Area by the US Census Bureau for over 30 years.  With tourist attractions and gulf beaches only an hour away, Lakeland continues to capitalize on its ideal central Florida location along the I-4 corridor.  The City owns and operates Lakeland Electric, the third-largest publicly owned utility in Florida and it was one of the first to offer power in the Sunshine State over 110 years ago.
For additional information about the City of Lakeland, please explore LakelandGov.net.
Citizens are also invited to follow the City on social media. 
---