Snowfest 2021 | A Walk In The Snow | 41st Anniversary
---
LAKELAND, FL (November 30, 2021) | Snowfest returns to Lake Mirror on Saturday, December 4th from 5 - 9 p.m. at the Frances Langford Promenade. The City of Lakeland will be celebrating the 41st Anniversary of this holiday tradition. 
The event will feature a stroll through the snow along with other holiday delights in the area of the amphitheater on the east side of Lake Mirror.  A suggested donation of one canned food item per person can be dropped off at one of 3 info tents located throughout the event. All collected non-perishable food items will be donated to Senior Orphans of Polk County and VISTE (Volunteers in Service to the Elderly).
Artificial snow will be falling as visitors enter the designated event area.  Along with the snow, there will be arts and craft vendors, a beautiful 30-foot-tall Christmas Tree, Santa and Mrs. Clause in a snow globe, Santa's workshop with activites provide Home Depot (while supplies last), a book giveaway sponsored by the Junior League of Greater Lakeland, and vehicles on display from the presenting sponsor, Audi Lakeland.
The Frances Langford Promenade (also known as the Lake Mirror Promenade) is a historic site in Lakeland, Florida. It is located between Lemon Street and Lake Mirror Drive. On January 27, 1983, it was added to the US National Register of Historic Places. The project was built in two phases and completed in 1928. Charles Leavitt of New York was the designer. In 1946, the City of Lakeland dedicated the promenade to Lakeland native Frances Langford for her entertainment career that was escalated through her work with the USO during WWII. In 2013, the City re-dedicated the promenade and installed a new historic marker.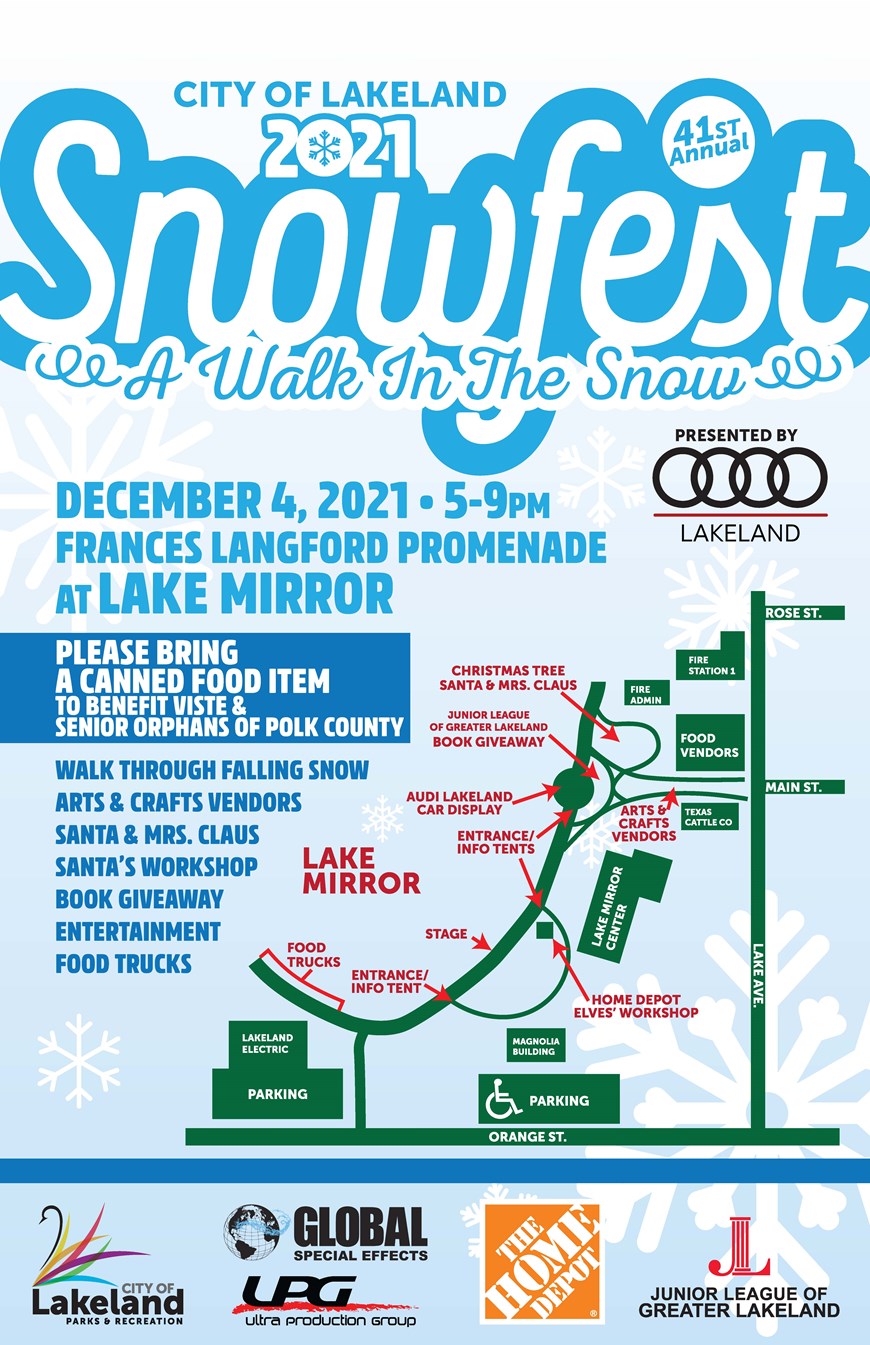 ---
Contact
Kevin Cook
Director of Communications
City of Lakeland
863.834.6264
Kevin.Cook@LakelandGov.net
---
About Lakeland
The City of Lakeland was incorporated in January 1885 and has grown to become one of the largest inland communities in Florida.  With a current population of over 100,000, Lakeland continues to grow. It has been designated a Standard Metropolitan Statistical Area by the US Census Bureau for over 30 years.  With tourist attractions and gulf beaches only an hour away, Lakeland continues to capitalize on its ideal central Florida location along the I-4 corridor.  The City owns and operates Lakeland Electric, the third-largest publicly owned utility in Florida and it was one of the first to offer power in the Sunshine State over 110 years ago.
For additional information about the City of Lakeland, please explore LakelandGov.net.
Citizens are also invited to follow the City on social media. 
---