City News Blog: Fundraising Efforts Underway Decorative Lights For Grand Oak At Main Library
---
LAKELAND, FL (July 18, 2022) - The Parks, Recreation, and Cultural Arts Department recently partnered with the Historic Lake Morton Neighborhood Association to raise money to install decorative lights on one of the grand oaks located on the lawn of the Lakeland Public Library (100 Lake Morton Drive).
The goal is to raise $35,000 to equip the large oak tree with decorative drip lights like those installed on trees in Munn Park. The project will provide value and twinkle to a popular public space adjacent to downtown.   Both the City of Lakeland and the Lake Morton Neighborhood Association have pledged $5,000 each to kick off the fundraising campaign.  Those wishing to support the project with a monetary donation are invited to visit the fundraising site set-up by the Lake Morton Neighborhood Association https://bit.ly/LakeMortonLights.  The fundraising campaign is scheduled to run through September 30, 2022.
Bob Donahay, Director of Parks, Recreation and Cultural Arts said, "The dripping lights in the trees around Munn Park create a sense of magic and ambiance.  The Lakeland Morton Neighborhood asked the City to help bring a similar sense of place to lawn in front of the Main Library. Of course, we love the idea of partnering with the neighborhood to assist in fundraising efforts."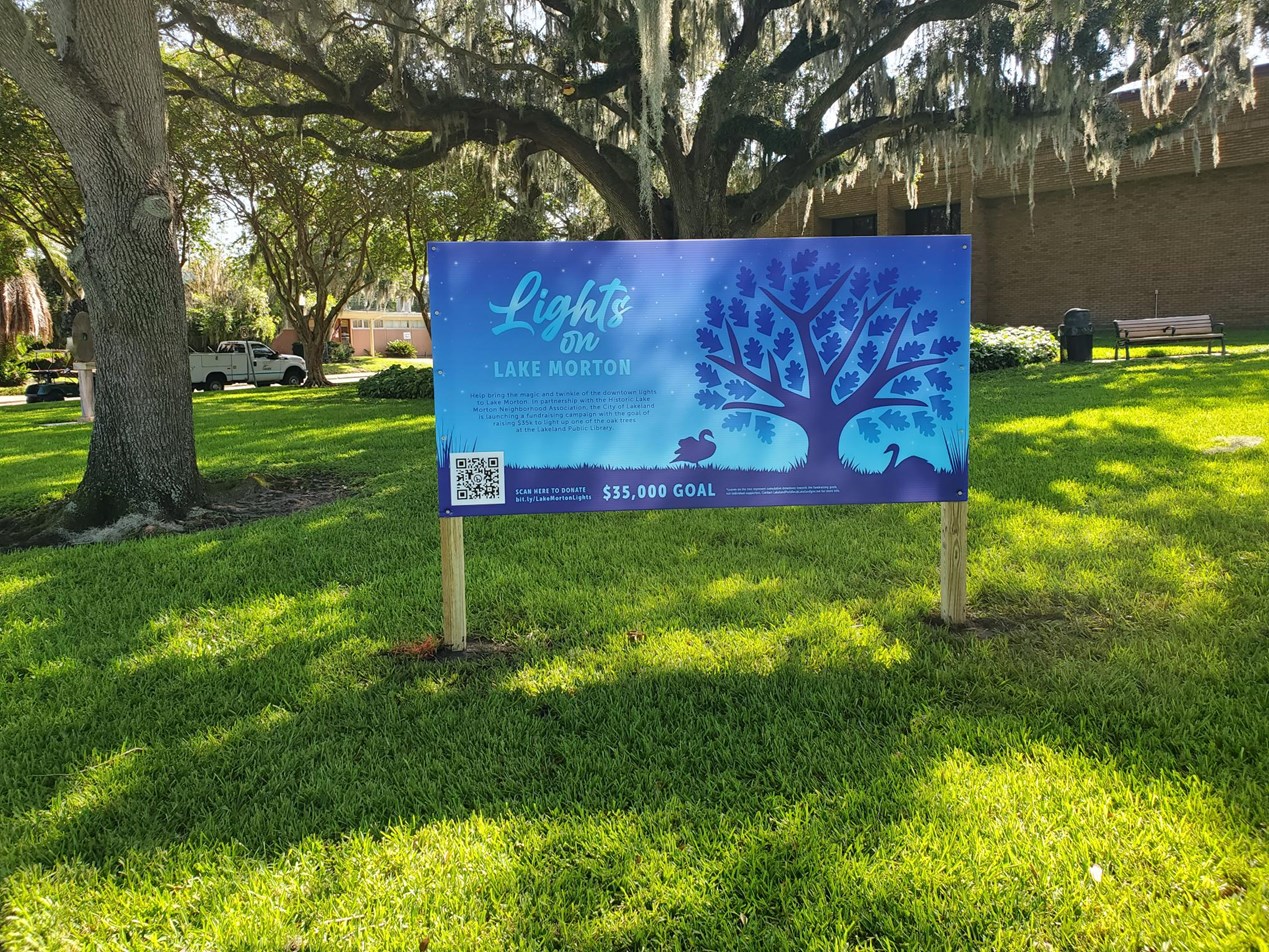 ---
Contact
Kevin Cook
Director of Communications
City of Lakeland
863.834.6264
Kevin.Cook@LakelandGov.net
---
About Lakeland
The City of Lakeland was incorporated in January 1885 and has grown to become one of the largest inland communities in Florida.  With a current population of over 100,000, Lakeland continues to grow. It has been designated a Standard Metropolitan Statistical Area by the US Census Bureau for over 30 years.  With tourist attractions and gulf beaches only an hour away, Lakeland continues to capitalize on its ideal central Florida location along the I-4 corridor.  The City owns and operates Lakeland Electric, the third-largest publicly owned utility in Florida and it was one of the first to offer power in the Sunshine State over 110 years ago.
For additional information about the City of Lakeland, please visit www.lakelandgov.net.  Citizens are also invited to follow the City on Facebook, Twitter, Instagram, YouTube, Vimeo, Snapchat and Nextdoor.  Citizens can find the City of Lakeland on these social media platforms by searching lakelandgov. 
For additional information about the City of Lakeland, please explore LakelandGov.net.
Citizens are also invited to follow the City on social media. 
---