YOUTHBUILD LAKELAND is accepting applications
---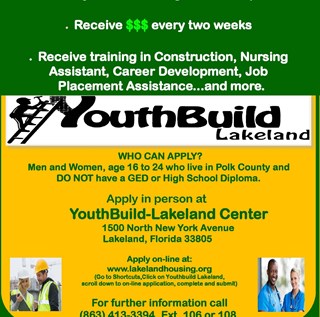 YOUTHBUILD LAKELAND is accepting applications for anyone between the ages of 16 and 24 needing help to obtain their GED or High School Diploma while also learning vocational skills. Financial assistance is available. 
VIEW FLYER
YOUTHBUILD-LAKELAND is a six-month program developed to help young adults, 16 to 24 years of age, complete the necessary steps to obtain their GED or high school diploma and prepare for gainful, entry-level employment. Participants receive classroom instruction to prepare for the GED exam, hands-on assistance in completing studies for their high school diploma, opportunities to obtain certifications in Forklift, OSHA 10, First Aid/CPR, and PACT (a nationally recognized carpentry training program) and/or Nursing Assistant training. In addition, participants work on an actual construction work-site where they receive hands-on training in construction and learn to build affordable housing for low-income families. There is also a strong emphasis and training placed on career, personal, and leadership development.
To assist them financially, participants receive a bi-weekly stipend while studying to obtain their GED, earning valuable credentials, and learning life-changing job readiness, work ethics, and life skills. Also, there are scholarships that can be earned to assist with post-secondary education, as well as some assistance with transportation. And the cost of the aforementioned to the participant – $$$ZERO$$$.
For further information call (863) 413-3394 Ext. 107 or 108.