Public Notice: Due To Renovation Project Live Meetings Will Be Moved From City Commission Chambers To Lakeland Electric Building 1 A/B
---
LAKELAND, FL (April 14, 2023) | Due to a renovation project taking place in the City Commission Chambers, all live meetings that require broadcast and audience participation will be moved to the Lakeland Electric Building 1 A/B starting Friday, May 5th – Thursday, June 1st.
The City Commission Chambers will be undergoing a major audio/visual renovation project. Most of the audio/visual equipment currently used to broadcast live meetings is over 20-years old. Newer technology will be installed that will enhance the broadcast and streaming services provided by the City of Lakeland.  The core mission of the Communications Department is to have an informed and engaged citizenry. The broadcast streaming of live government meetings is one way the City of Lakeland provides transparency to the community. 
The following live meetings will take place in Lakeland Electric 1 A/B:
Red Light Camera Hearing                  May 10th
Agenda Study Session                         May 12th
City Commission Meeting                   May 15th
Planning & Zoning Board                    May 16th
Code Enforcement Hearing                May 23rd
Historic Preservation Board                May 25th
CRA Advisory Board                            June 1st
The current outline for construction has work being completed by Thursday, June 1st with all live meetings that require audience participation returning to the normal schedule on Friday, June 2nd.  Director of Communications, Kevin Cook said, "We apologize in advance for any inconvenience this may cause, and we are fast-tracking the project as best we can to minimize impacts to the public and our internal customers.  We have some audio/visual equipment in the City Commission Chambers that dates back to the early 1990's with most of the equipment purchased in 2002 when we really started increasing government access television efforts on local cable networks.  When we first started recording City Commission meetings it was on VHS tape and we would courier the tape to the cable company for broadcast later that evening.  We now have streaming services, high-definition television and video on demand. Television and broadcast equipment has improved drastically over the past 20 plus years and it's time to replace this aging equipment with newer technology."
In the past year, the Communications Department produced 142 live meetings on two government access stations. The meetings are also live streamed on the City's website www.lakelandgov.net, YouTube and Facebook Live. The City's government access channels can be found on Spectrum/Charter 643 and Frontier FiOS 43. The Communications Department also produced 175 stand-alone video projects that could be anything from a 15 second edited video specifically designed for social media to a 2-hour production of the Lakeland Christmas Parade. All productions are available as video on demand through the City's website, Vimeo, and YouTube channels.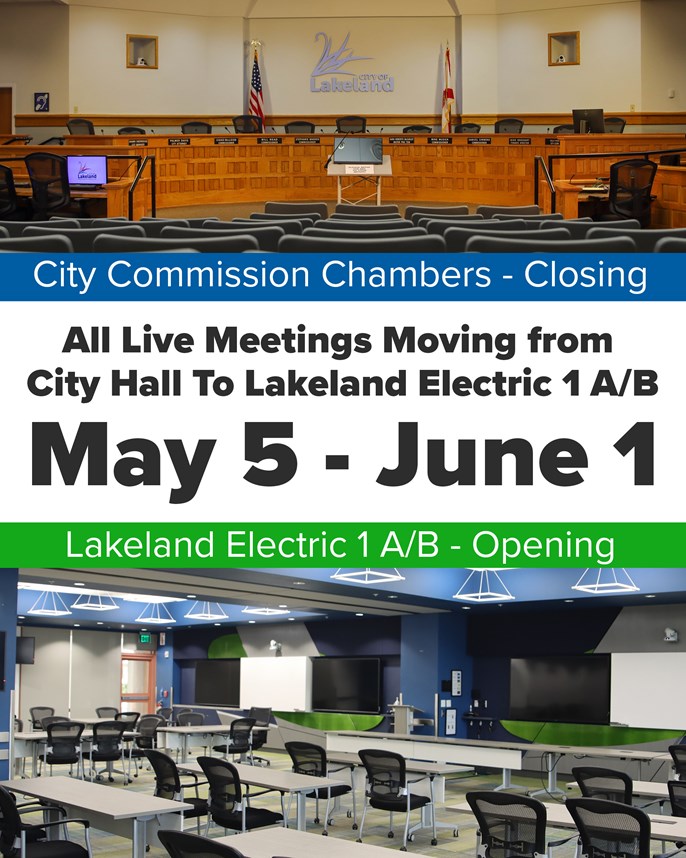 ---
Contact
Kevin Cook
Director of Communications
City of Lakeland
863.834.6264
Kevin.Cook@LakelandGov.net
---
About Lakeland
The City of Lakeland was incorporated in January 1885 and has grown to become one of the largest inland communities in Florida.  With a current population of over 100,000 Lakeland continues to grow. It has been designated a Standard Metropolitan Statistical Area by the US Census Bureau for over 30 years.  With tourist attractions and gulf beaches only an hour away, Lakeland continues to capitalize on its ideal central Florida location along the I-4 corridor.  The City owns and operates Lakeland Electric, the third largest publicly owned utility in Florida and it was one of the first to offer power in the Sunshine State over 115 years ago. 
For additional information about the City of Lakeland, please visit www.lakelandgov.net.  Citizens are also invited to follow the City on Facebook, Twitter, Instagram, YouTube, Vimeo, Snapchat and Nextdoor.  Citizens can find the City of Lakeland on these social media platforms by searching lakelandgov. 
For additional information about the City of Lakeland, please explore LakelandGov.net.
Citizens are also invited to follow the City on social media.