Business Representatives Will Share Impacts of COVID-19 During Special Called City Commission Meeting
---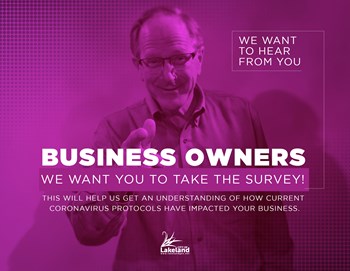 LAKELAND, FL (April 22, 2020) | The Lakeland City Commission will hear from business representatives during the Specially Called City Commission Meeting on April 27th at 3 p.m.  The specially called meetings were initiated to provide the Lakeland City Commission updates and allow open discussion on coronavirus related issues.  Past meetings have included health professionals providing updates and specific data as it relates to area health care providers.   City Manager Tony Delgado said, "The April 27th meeting will feature representatives from the business community sharing the current economic environment and the impacts COVID-19 is having on the local economy.  It is important to get a reading on the health and vitality of the area economy as we continue to monitor the impacts the virus is having on the community as a whole."
The following speakers will share their views on how the coronavirus is impacting their representative groups:
Chrissanne Long - BRIDGE Local Founder and Small Business Advocate
Julie Townsend – Lakeland Downtown Development Authority
Larry Mitchell - Central Florida Business Development Council 
Cory Skeates – Lakeland Area Chamber of Commerce
Steve Scruggs – Lakeland Economic Development Council
A survey has been developed by BRIDGE Local in partnership with the City of Lakeland and other area business organizations to help gather specific information about the status of individual businesses in the community. The survey will help identify the challenges businesses are facing and the impacts that current COVID-19 safety protocols are having on the Lakeland economy. Businesses are invited to take the BRIDGE Local online survey. 
---
---
The Special Called City Commission meeting will be done virtually using the latest in remote meeting technology. The dedicated COVID-19 meeting will be streamed live on LakelandGov.net/TV and broadcast on Spectrum 643 and FiOS 43. It will also be available at YouTube.com/LakelandGov for those with digital media players like Roku, Firestick, and Apple TV.
Contact
---
About Lakeland
The City of Lakeland was incorporated in January 1885 and has grown to become one of the largest inland communities in Florida.  With a current population of over 100,000, Lakeland continues to grow. It has been designated a Standard Metropolitan Statistical Area by the US Census Bureau for over 30 years.  With tourist attractions and gulf beaches only an hour away, Lakeland continues to capitalize on its ideal central Florida location along the I-4 corridor.  The City owns and operates Lakeland Electric, the third-largest publicly owned utility in Florida and it was one of the first to offer power in the Sunshine State over 110 years ago.
For additional information about the City of Lakeland, please explore lakelandgov.net.
Citizens are also invited to follow the City on social media.
---