Site Work in Progress for Summit Consulting Downtown Office Project
---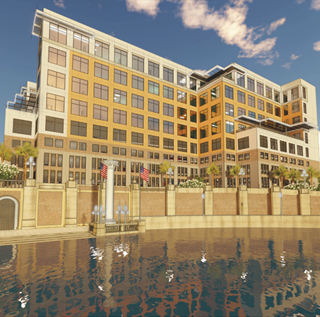 LAKELAND, FL (April 23, 2020) | Site work has begun on Summit Consulting's new eight-story, 135,000 square foot office building located at 117 N. Massachusetts Avenue in downtown Lakeland. Summit purchased this 1.2-acre Lake Mirror property from the City of Lakeland on March 3rd of this year after completing an extended due diligence period.  
Jason Willey, Business Development Manager for the City of Lakeland said, "Contractors are assembled on-site and are currently working to construct a new 24-inch water line that will replace an existing line that must be removed before foundation work begins on the project. This work will soon transition into more complicated excavation work as part of prepping for the building's foundation and lower level parking garage.  Once the excavation is complete, actual building construction will begin."
City Manager Tony Delgado said, "The property once housed the City's fire station and jail facility but it has been vacant for decades as we waited for the right development to take place."  He added, "Summit Consulting's $50 million project is a Class A office facility that will have integrated parking accommodations on the bottom floors for their corporate headquarters. As part of the project, the City contracted spaces from Summit Consulting for downtown visitors to use on nights and weekends."
Foundation plans are being reviewed and the developer has contracted with a local engineering firm (Madrid Engineering) to develop a plan to monitor and protect the Lake Mirror Loggia and Promenade during construction. Staff is also reviewing the proposed traffic plan that will document the effects of this project on Massachusetts Avenue. To accommodate the planned construction activity, the contractor will be closing two northbound turn lanes (one right and one left) and one a single right southbound turn lane on Massachusetts Avenue. Starting on Friday May 1st, north and southbound traffic on Massachusetts Avenue between E. Main Street and Cedar Street will be reduced to two lanes. This section on the road will remain altered to just one northbound and one southbound lane throughout the 18-month duration of the project. 
Rendering by The Lunz Group. 
Contact
---
About Lakeland
The City of Lakeland was incorporated in January 1885 and has grown to become one of the largest inland communities in Florida.  With a current population of over 100,000, Lakeland continues to grow. It has been designated a Standard Metropolitan Statistical Area by the US Census Bureau for over 30 years.  With tourist attractions and gulf beaches only an hour away, Lakeland continues to capitalize on its ideal central Florida location along the I-4 corridor.  The City owns and operates Lakeland Electric, the third-largest publicly owned utility in Florida and it was one of the first to offer power in the Sunshine State over 110 years ago.
For additional information about the City of Lakeland, please explore lakelandgov.net.
Citizens are also invited to follow the City on social media.
---