Steven Czop Representing LFD in CFSHC's Mr. Central Florida Contest
---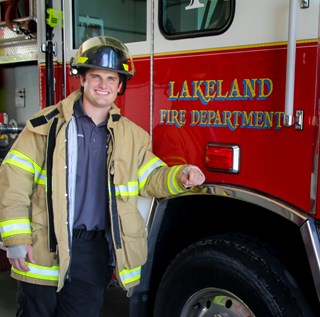 Firefighter Czop's future as Mr. Central Florida is looking real bright. 
Steven Czop is the Lakeland Fire Department's 2020 contestant for Mr. Central Florida! He is representing the department, along with other leaders in the community to help benefit the Central Florida Speech and Hearing Center! Voting to make Steven a winner is easy.
The contestant with the most money in donations wins.
Every amount is accepted and counts towards Steven's goal! Steven is passionate about this cause because of his very personal experience with speech and hearing disorders. Steven shares:
"As someone who consistently sees the change in our wonderful city, one thing that remains consistent is the positive influence the Central Florida Speech and Hearing Center has in the community. They are welcoming, give back the same generosity that they receive, and never miss an opportunity to positively change other people's lives. These are strong characteristics I like to align myself with so when the opportunity to run for Mr. Central Florida presented itself, I couldn't say no. What has driven my desire to participate is the fact that my personal life has been positively impacted by organizations such as this. When my sister was adopted as a baby, we discovered she was deaf in both ears and was eligible to receive cochlear implants. Without these types of services, I may have never been blessed to have the same communication, bond, or relationship I have developed with her. What better way for me to show my appreciation for everything they have done for me and my family, represent my sister, and act as an ambassador for my department than to give my all into becoming your next Mr. Central Florida. I am lucky to have the opportunity to be a part of the Central Florida Speech and Hearing Center's effort to change the way we communicate in the world, one child at a time."
More about 
the Central Florida Speech and Hearing Center:
Central Florida Speech and Hearing Center is a beacon for those struggling to communicate with the world. When patients first come to the Center, they often feel isolated, embarrassed, and desperate for help. Through the support of the community, the Center has provided hearing aids to a 4 month old baby, taught a young man to speak with the use of an iPad, rehabilitated stroke victims, regaining their speech and language, assisted people with employ-ability, and helped seniors regain their independence.