Coronavirus/COVID-19 - Parks & Recreation Updates
---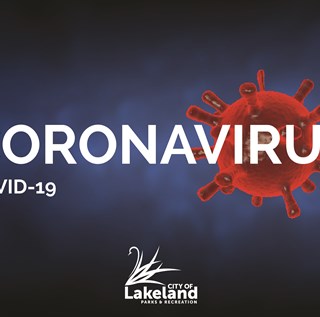 Updated October 30, 2020, 12:00 p.m.
This news item will be updated with information on Parks & Recreation Department facilities and green spaces. 
All visitors are required to wear masks while in City facilities. The City has disposable masks to dispense to visitors upon screening. Individuals that entering a City facility will be screened (employees and guests) each time they enter. It is a no-contact screening of temperature and questions. Any individual who refuses screening will not be allowed to enter City facilities. 
Current Closings:
Water fountains remain off (with the exception of bottle fill stations)
All Parks, Recreation Facilities, Libraries, Cemeteries, and the Cleveland Heights Golf Course are currently open (unless undergoing regularly scheduled maintenance).
The City of Lakeland encourages anyone utilizing high-touch areas that are open to the public such as picnic pavilions and restrooms to follow safety protocols for hygiene and disinfecting surfaces before use. 
Use the Parks Finder Application to determine whether specific Park Spaces and/or amenities are included with the first round of Re-Openings.
If you have any questions do not hesitate to contact our team via email at LakelandParkRec@Lakelandgov.net. 
The following is the best contact information for each of our areas:
Parks 
Check out our Parks Finder Application to determine if a specific City of Lakeland park space is open.
LakelandParkRec@Lakelandgov.net
Staff will be available Monday - Friday 8:00 AM – 3:00 PM to assist by phone:
863.834.2233
Voicemails outside of these times will be returned as soon as possible.
Recreation
Recreation@Lakelandgov.net 

Kelly Recreation Complex
For info on the Recreation Center, Summer Camp, and Adult Athletic Leagues
863-834-3284
Gandy & Simpson Park Pools
Aquatics@Lakelandgov.net 

Simpson Park Community Center
Staff Available by phone
Monday - Friday, 8 am - 5 pm
863-834-2577

Parks & Recreation Rental Office
For info on Parks & Recreation building & park rentals
LakeMirrorRentals@Lakelandgov.net
863.834.2280

Coleman-Bush Building
ColemanBush@Lakelandgov.net 
863-834-3350
Cemeteries
The office is currently closed to walk-ins.
Cemeteries@Lakelandgov.net
Staff will be available Monday - Friday 7:30 AM – 4 PM to assist by phone:
863.834.3287
Voicemails outside of these times will be returned as soon as possible.
Find information and search burial plots online at www.lakelandgov.net/Cemeteries
Libraries
Submit requests via the website at www.Lakelandgov.net/Library
863-834-4263
Cleveland Heights Golf Course - Reopened May 1 with individuals asked to follow social distancing protocols
Brock.Witmyer@Lakelandgov.net
863.834.2379
For more info, maps, and City of Lakeland-related COVID-19 updates, bookmark our Emergency Management page. 
Contact
---
About Lakeland
The City of Lakeland was incorporated in January 1885 and has grown to become one of the largest inland communities in Florida.  With a current population of over 100,000, Lakeland continues to grow. It has been designated a Standard Metropolitan Statistical Area by the US Census Bureau for over 30 years.  With tourist attractions and gulf beaches only an hour away, Lakeland continues to capitalize on its ideal central Florida location along the I-4 corridor.  The City owns and operates Lakeland Electric, the third-largest publicly owned utility in Florida and it was one of the first to offer power in the Sunshine State over 110 years ago.