City Manager Tony Delgado Announces His Retirement Effective September 26th
---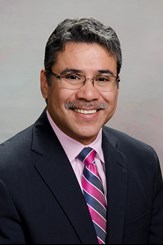 LAKELAND, FL (May 29, 2020) | City Manager Tony Delgado announces his retirement after 23 years of service with the City of Lakeland effective September 26, 2020. Delgado said, "This certainly was not an easy decision and I am honored that I was provided the opportunity to serve the citizens of Lakeland. This is such a wonderful and vibrant community and I am proud to have been part of an outstanding team of public servants who work diligently to assist in making Lakeland a great place to live and work."
Delgado started his career with the City at the Lakeland Center (RP Funding Center) as the facility's Assistant Director in January 1997 and within four years was given the opportunity to become part of the City administrative management team. In November 2000 he was promoted to Assistant City Manager and in a few short years, he was named Deputy City Manager. He was appointed as City Manager on January 4, 2016, follo0wing a three month interim City Manager appointment.
Delgado has been married to his wife Robin since 1993 and who retired from the Bank of Central Florida in 2019. Delgado enjoys golf, traveling, attending sports events, and concerts but truly loves baseball and is a "die-hard" Chicago Cubs fan.
Delgado said, "My wife and I believe that this is the right time to explore the next chapter of our lives. I am extremely proud of the work that that has been accomplished and the opportunities that I have had with the City of Lakeland. I have worked with so many great people over the years and it is those people I will miss most." He added, "We have a great City Commission and staff in place and I personally look forward to the bright future that lies ahead for this wonderful City."
Tony Delgado Retirement Letter
Contact
Kevin Cook
---
About Lakeland
The City of Lakeland was incorporated in January 1885 and has grown to become one of the largest inland communities in Florida.  With a current population over 100,000, Lakeland continues to grow. It has been designated a Standard Metropolitan Statistical Area by the US Census Bureau for over 30 years.  With tourist attractions and gulf beaches only an hour away, Lakeland continues to capitalize on its ideal central Florida location along the I-4 corridor.  The City owns and operates Lakeland Electric, the third-largest publicly owned utility in Florida and it was one of the first to offer power in the Sunshine State over 110 years ago.
For additional information about the City of Lakeland, please explore lakelandgov.net.
Citizens are also invited to follow the City on social media. 
---