Summit Consulting Building Construction Update
---
LAKELAND, FL (May 29, 2020) | Site work continues on Summit Consulting's new eight-story 135,000 square foot building located at 117 N. Massachusetts Avenue in downtown Lakeland. Summit purchased this 1.2-acre Lake Mirror property from the City of Lakeland in early March after completing an extended due diligence period.
Foundation plans have been approved and the developer has contracted with a local engineering firm (Madrid Engineering) to develop a plan to monitor and protect the Lake Mirror Loggia and Promenade during construction. As the development team continues to excavate the site, they will begin preparing for the installation of the foundation support columns. These loadbearing stone columns push crushed rock into the ground to assist in supporting the building.
To accommodate the planned construction activity, the contractor will be closing two northbound turn lanes (one right and one left) and one single right southbound turn lane on Massachusetts Avenue. Starting on Friday, June 5th, north and southbound traffic on Massachusetts Avenue between East Main Street and Cedar Street will be reduced to two lanes. This section of the road will remain altered to just one northbound and one southbound lane throughout the 18-month duration of the project. Road striping and low profile barriers that will define the changes in the approved traffic plan will be installed Thursday, June 4th.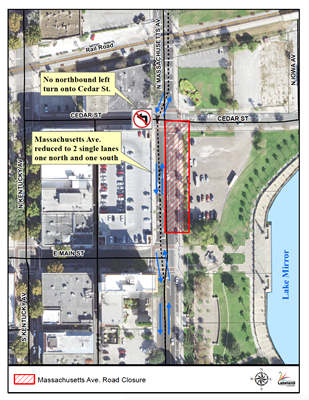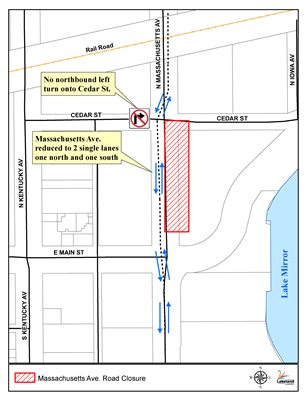 See Also: April 23, 2020 Progress Update
Contact
Kevin Cook
---
About Lakeland
The City of Lakeland was incorporated in January 1885 and has grown to become one of the largest inland communities in Florida.  With a current population over 100,000, Lakeland continues to grow. It has been designated a Standard Metropolitan Statistical Area by the US Census Bureau for over 30 years.  With tourist attractions and gulf beaches only an hour away, Lakeland continues to capitalize on its ideal central Florida location along the I-4 corridor.  The City owns and operates Lakeland Electric, the third-largest publicly owned utility in Florida and it was one of the first to offer power in the Sunshine State over 110 years ago.
For additional information about the City of Lakeland, please explore lakelandgov.net.
Citizens are also invited to follow the City on social media. 
---