Sanitary Sewer Work Will Take Place on a Portion of Sylvester Road to Rehab a 24-Inch Main
---
Project will use Cured-in-Place Technology
---
LAKELAND, FL (August 6, 2021) | The City of Lakeland continues with sewer rehabilitation work using cured-in-place technology to extend the life of older pipes. The cost-efficient process uses an epoxy liner installed to the pipes' interior and a curing agent activates the liner to adhere to the pipe walls. Once fully cured, the lining acts as a new pipeline.
Starting Monday, August 9th, a contractor working for the City of Lakeland Wastewater Collection Division will rehab a portion of the 24-inch sewer main that runs along the south side of Sylvester Road between John Arthur Way and Staunton Avenue. This project will take two days to complete and will be done during daytime hours. There will be a lane closure for the eastbound lane of Sylvester Road while the work is performed. Flaggers and traffic control signage will be in place to guide motorists safely through the work zone. The sidewalk adjacent to the work areas will also be closed along the south side of Sylvester Road. The work is scheduled to be complete on Tuesday, August 10th.
Sean Russ, Engineering Technician with the Wastewater Division, said, "This rehab work will utilize the cured-in-place lining process, which will allow us to add another 50 years of serviceable life without having to dig up and replace the old sewer mains. This is a budgeted project (non-emergency), and the 24" diameter sewer mains that are the subject of this notice were originally installed in the late 1950s."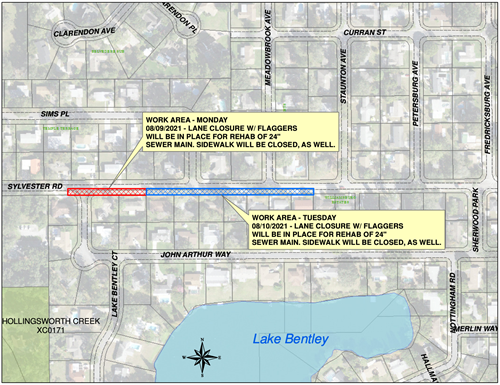 Contact
Kevin Cook
Director of Communications
City of Lakeland
863.834.6264
Kevin.Cook@LakelandGov.net
---
About Lakeland
The City of Lakeland was incorporated in January 1885 and has grown to become one of the largest inland communities in Florida.  With a current population of over 100,000, Lakeland continues to grow. It has been designated a Standard Metropolitan Statistical Area by the US Census Bureau for over 30 years.  With tourist attractions and gulf beaches only an hour away, Lakeland continues to capitalize on its ideal central Florida location along the I-4 corridor.  The City owns and operates Lakeland Electric, the third-largest publicly owned utility in Florida and it was one of the first to offer power in the Sunshine State over 110 years ago.
For additional information about the City of Lakeland, please explore LakelandGov.net.
Citizens are also invited to follow the City on social media. 
---