Second Phase of Overnight Sanitary Sewer Work Continues August 9th
---
LAKELAND, FL (August 4, 2021) – The City of Lakeland Wastewater Division will continue the second phase of overnight sanitary sewer rehabilitation work in the downtown area on Monday, August 9th. On Monday, starting at 7 p.m. and lasting until 6 a.m., lane closures and detours will be established on South Florida Avenue between Orange Street and Lemon Street. Lane closures and sewer work will continue Tuesday, August 10th with detours and lane closures on South Florida Avenue between Palmetto Street and Walnut Street. Crews will be rehabbing the sanitary sewer line along South Florida Avenue between Lime Street and Orange Street on Wednesday, August 11th.  On Thursday, August 12th lane closures will be in place on South Florida Avenue starting at the intersection of Lemon Street and heading north for approximately one block.
All lane closures will start at 7 p.m. with lanes re-opening to normal operations by 6 a.m. the following morning. The work on South Florida Avenue will require one through lane and the center turn lane to close. Detours during the construction phases will be clearly marked to least impact vehicular traffic.
City Manager Shawn Sherrouse said, "This is a continuation of work that we started this week as we rehab older sewer lines in the downtown area.  Work will take place overnight with our contractors using a proven lining system that cures in place. An epoxy liner is installed to the interior of the pipes and a curing agent activates the liner to adhere to the pipe walls. Once fully cured, the lining acts as a new pipeline and extends the lifespan of our system by at least 50 years."  He added, "This is a very efficient and cost effective way to maintain lines without tearing up streets and completely replacing a system that was originally installed in the 1920's."
The City of Lakeland was incorporated January 1885 and has grown to become one of the largest inland communities in Florida. With a current population over 100,000 Lakeland continues to grow, capitalizing on its ideal central Florida location along the I-4 corridor. Lakeland has been designated a Standard Metropolitan Statistical Area by the US Census Bureau for over 35 years. The City owns and operates Lakeland Electric, the third largest publicly owned utility in Florida and it was one of the first to offer power in the Sunshine State over a century ago.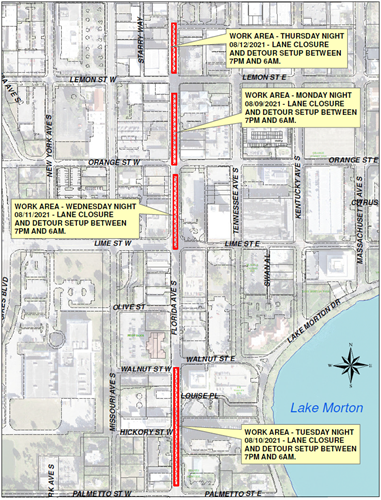 ---
For additional information about the City of Lakeland, please explore LakelandGov.net.
Citizens are also invited to follow the City on social media. 
---