PUBLIC NOTICE: Intersection Closure at S Kentucky Ave & Lime Street
---
LAKELAND, FL (May 20, 2021) | An emergency intersection closure is in place at South Kentucky Avenue and Lime Street. The closure is immediate with barricades being placed right now because it was discovered late yesterday evening that the sewer lines coming out of the manhole in the middle of the intersection have partially collapsed. Once the road is closed, City crews will cut the pavement and start the repair. It is anticipated to have the repairs completed later this afternoon and the intersection repaved either this evening or by tomorrow (Friday) morning. If the intersection can't be paved tonight, the road will be opened back up for traffic and then closed again to pave in the morning.
Richard Rued, Manager of Waste Water Collection said, "We have two sewer lines coming out of the manhole in the center of the intersection with pipe failures that need to be repaired so the road does not cave in." He added, "The lines are on our schedule for maintenance and that is how the issue was discovered."
The map below shows the preliminary emergency intersection closure of South Kentucky Avenue and Lime Street. Once barricades are in place, traffic will be diverted with detours that route travelers around the intersection. Local traffic will be allowed on Kentucky Avenue and Lime Street during the repair but motorists will not be able to go through the intersection until work is completed.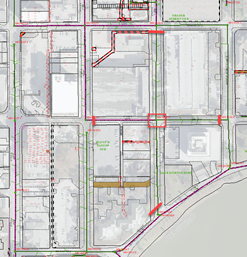 ---