City of Lakeland Hosts 7th Annual Holly Jolly Jingle Bell Jog
---
Wear Your Holly-est, Jolly-est Attire In Support of Three Parks Trail
LAKELAND, FL (November 15, 2021) | The City of Lakeland is hosting the 7th Annual Holly Jolly Jingle Bell Jog on Saturday, December 11th.  This festive 5K race takes place on Three Parks Trail, and this year there will be a 7 a.m. staggered start for the runners gathering on Buckingham Avenue.  There is also a virtual option for those who want to participate on their own. Runners and spectators are encouraged to wear their most festive holiday gear for this timed and chipped race.  The race starts and ends at Cleveland Heights Golf Course (2900 Buckingham Avenue) with runners jingling and jogging along the race route that follows Three Parks Trail. The cost of the race is $35 with proceeds benefitting the perpetual care fund for the Trail through the Givewell Community Foundation.
Director of Parks & Recreation Bob Donahay said, "This race is a great time to celebrate our public spaces and promote holiday cheer.  Participants are encouraged to dress in their holly-est, jolly-est attire. Over the years we have seen some awesome costumes ranging from discarded chairs from the Lakeland Christmas Parade, every holiday icon you can imagine and a few years ago one runner even completed the 5K race in those curly toe-elf shoes."
Participants for the live and virtual option will receive an awesome race shirt along with a finisher ornament. The live race will have age group and overall winner medals.  Race participants must compete in the in-person live event to be eligible for age group and overall winner medals. There is even a 200-yard Reindeer Dash for our smallest participants under nine-years-old. All runners are encouraged to share your photos and experiences on social media, be sure to use the hashtag #JBJog.
Registration is now open through December 8th and follow the City of Lakeland's social media accounts @lakelandgov on all platforms for a Black Friday Discount Code.   To find out more information and to register for the event, go to JBjog.com.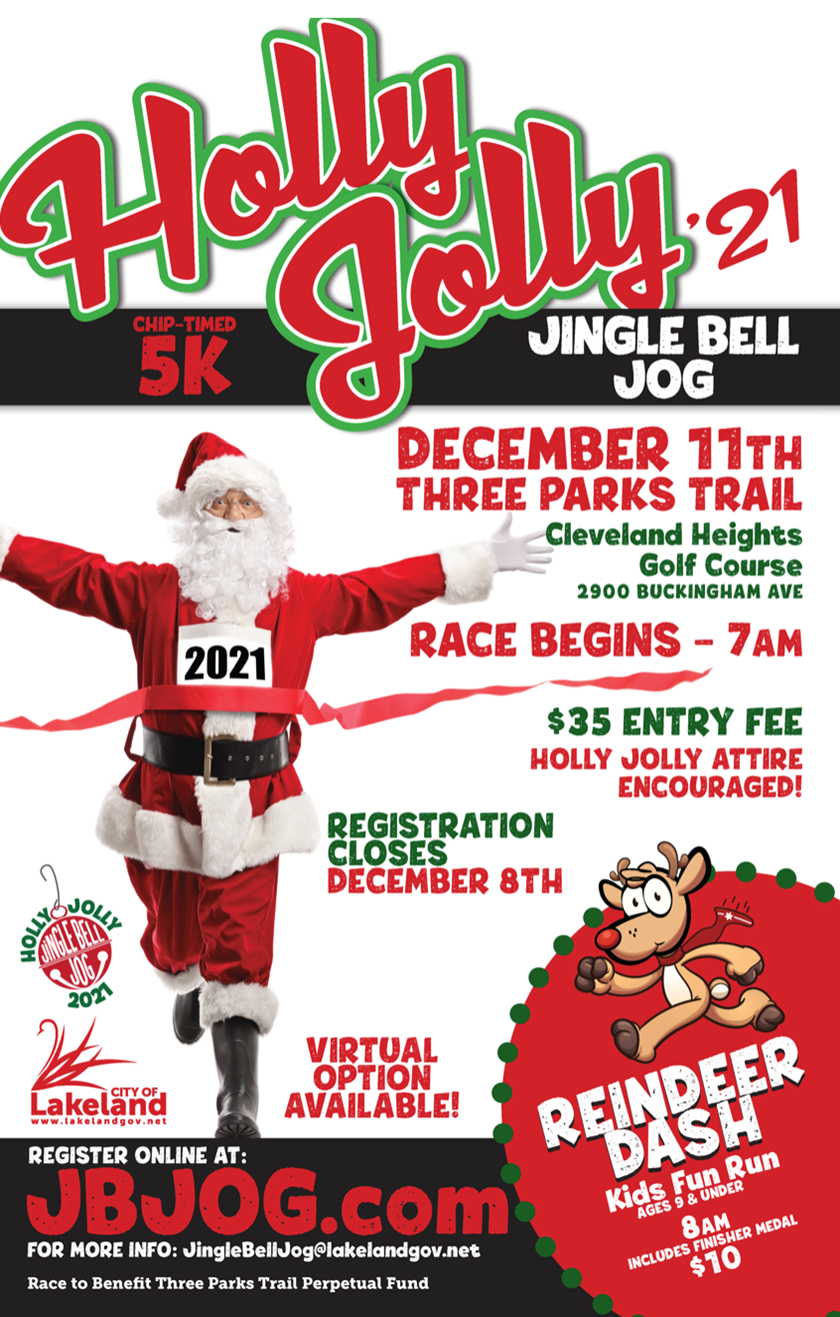 ---
Contact
Kevin Cook
Director of Communications
City of Lakeland
863.834.6264
Kevin.Cook@LakelandGov.net
---
About Lakeland
The City of Lakeland was incorporated in January 1885 and has grown to become one of the largest inland communities in Florida.  With a current population of over 100,000, Lakeland continues to grow. It has been designated a Standard Metropolitan Statistical Area by the US Census Bureau for over 30 years.  With tourist attractions and gulf beaches only an hour away, Lakeland continues to capitalize on its ideal central Florida location along the I-4 corridor.  The City owns and operates Lakeland Electric, the third-largest publicly owned utility in Florida and it was one of the first to offer power in the Sunshine State over 110 years ago.
For additional information about the City of Lakeland, please explore LakelandGov.net.
Citizens are also invited to follow the City on social media. 
---