41st Annual Lake Morton Swan Roundup Takes Place October 19th
---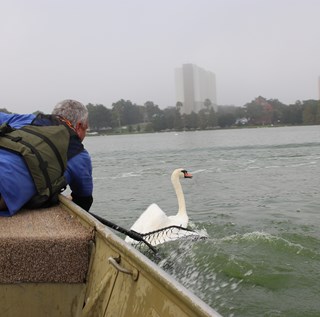 LAKELAND, FL (October 8, 2021) | The City of Lakeland Parks Division will be on Lake Morton at 7:00 a.m. on Tuesday, October 19th for the 41st Annual Swan Roundup. Parks & Recreation employees will be carefully gathering the swans to get them ready for their annual veterinary check-up. The swans will be confined in large holding pens on the south side of the lake for their annual wellness examinations with My Pet's Animal Hospital that will start the morning of October 20th at 8:00 a.m. The Annual Swan Round-Up allows the City's Parks and Recreation Department to closely monitor the health and vitality of Lakeland's swan population. 
The original swans on Lake Morton were donated by Queen Elizabeth of the United Kingdom in 1957.  As Lakeland's swan flock grew, it became paramount to give the regal birds an annual health check so the Swan Roundup began in 1980 and has continued every year since then. The swans were first cared for by veterinarian (emeritus) and original "Swanvet" W.G. Gardner, Dr. Patricia Mattson oversaw the birds for several years and now My Pet's Animal Hospital contributes their expertise to care for Lakeland's swan flock. 
My Pet's Animal Hospital is located at 2225 Drane Field Road in Lakeland. The Lakeland facility has a 5,100 square foot hospital with examination rooms and separate treatment and surgery areas, including laser surgery. There are over 40 kennels for boarding pets along with three hospital wards. My Pet's Animal Hospital is a full-service, AAHA accredited facility. The American Animal Hospital Association provides accreditation only to hospitals that meet their strict standards. 
Bob Donahay, Director of Parks & Recreation said, "The Lake Morton swans are a community icon and families have been interacting with the birds for decades. It is very important to us to make sure our Lakeland flock is doing well so we schedule the Swan Roundup each year with the primary purpose to check on the health of our birds."  He added, "We really appreciate the team at My Pet's Animal Hospital donating their time and equipment to help care for our flock.  We could not do it without their generous support."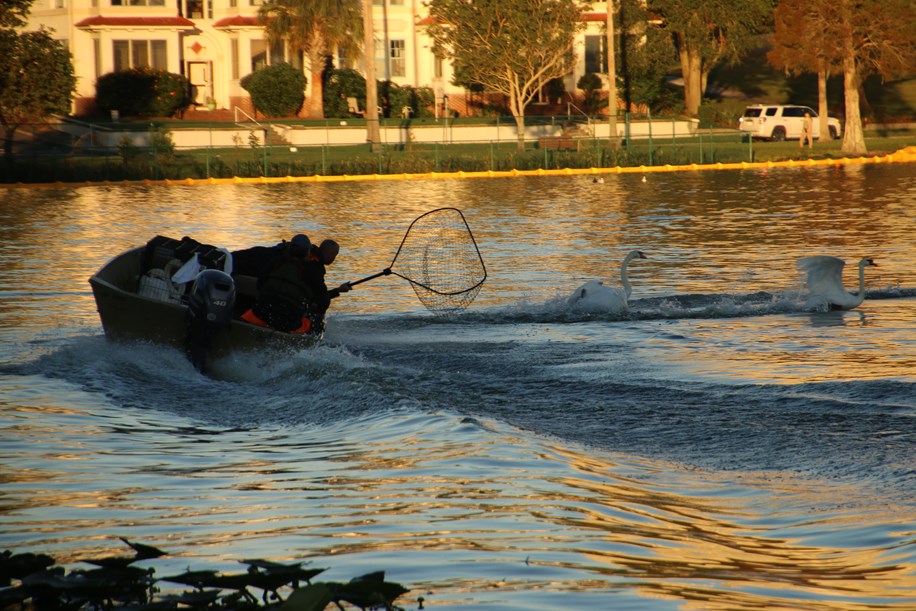 ---
Contact
Kevin Cook
Director of Communications
City of Lakeland
863.834.6264
Kevin.Cook@LakelandGov.net
---
About Lakeland
The City of Lakeland was incorporated in January 1885 and has grown to become one of the largest inland communities in Florida.  With a current population of over 100,000, Lakeland continues to grow. It has been designated a Standard Metropolitan Statistical Area by the US Census Bureau for over 30 years.  With tourist attractions and gulf beaches only an hour away, Lakeland continues to capitalize on its ideal central Florida location along the I-4 corridor.  The City owns and operates Lakeland Electric, the third-largest publicly owned utility in Florida and it was one of the first to offer power in the Sunshine State over 110 years ago.
For additional information about the City of Lakeland, please explore LakelandGov.net.
Citizens are also invited to follow the City on social media. 
---