Residential Trash, Recycling, and Yard Trash Collection Day Service Map
---
Yard Waste
Must Be Separated

From All Regular Trash, Recycling, and Junk

As required by the Polk County North Central Landfill, all the yard waste collected by the City must be separated from household garbage. This separation allows 100% of the yard waste collected to be composted and recycled into a commercial compost product supporting Florida farmers.
---
Pickup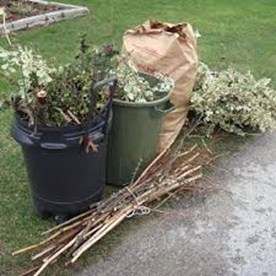 Small branches, limbs, and yard clippings are to be no longer than five feet (5) or five inches (5) in diameter. Yard waste meeting these size restrictions should be bundled and tied, or containerized for collection. Bundles or containers can not exceed 40 pounds, in weight.

*Place leaves and grass in containers or bags (bag weight should not exceed 40 pounds).
Piles larger than 6 feet x 4 feet in size must be requested for service via Email Customer Service or by calling 863.834.8773 for collection.
---
Bulk Yard Trash Service
Four Collections Per Year
Residential customers shall be provided four (4) collections, up to 20 cubic yards each, per calendar year.  The calendar year runs from January 1st through December 31st. 
What is Bulk Yard Waste?
Bulk Yard Waste means plant material, such as tree branches and shrubbery trimmings too large to be containerized.  Items must not be longer than eight feet (8) in length.
Arrange for Bulk Yard Waste Collection
Residents needing Bulk Yard Waste collection should Email Customer Service with (1) your address and (2) the type of material you have for collection, or call 863.834.8773 to arrange a pickup.  
Bulk yard waste requests are typically picked up on your regular service day once the request has been scheduled by the homeowner. Customer requests are completed based on the order they are received.
---
IMPORTANT NOTICE!
We service customers inside the city limits of Lakeland.  If your garbage can is gray, and your recycle cart is black, you are a Polk County customer and therefore not serviced by the City of Lakeland.  Please call the Polk County Solid Waste Department at 863.284.4319.

Place large piles of yard waste away from power lines, trees, mail boxes, fences, sprinkler systems, flower beds, and parked cars. DO NOT place trash or large items in the street or alleyway.
---