Cooking Oil Recycling Effort (C.O.R.E.)

---
---
Did you know you shouldn't dump used cooking oil down the drain? Cooking oil that is poured down the drain solidifies inside pipes, sewage lines, and sewage lift stations causing constricted flow and numerous problems.  Blockages can cause back ups in home plumbing, equipment malfunctions, sewage spills, overflows onto streets, and foul odors in homes and communities. 
There are currently grease interceptors required for all nonresidential/commercial establishments that have the potential to discharge wastewater containing fats, oils, or grease.  This is not the case for residential homes however, so any oil dumped down the drain goes directly into our wastewater system causing many issues.  
This is where C.O.R.E. comes in.  City of Lakeland's Cooking Oil Recycling Effort provides City residents with a way to collect and dispose of cooking oil.  
---
How to Participate:
Pick up one Cooking Oil Recycling Effort labeled jug at any C.O.R.E. station (map below). 
Carefully pour cooled cooking oil into the designated Cooking Oil Recycling Effort jug.
Cap the container and store in a cool, safe location. 
Don't mix the oil with any other liquids or products.  Cooking oil only.
Once the container is full, bring it to a Cooking Oil Recycling Effort station listed below. 
Place the sealed container inside the cabinet and only take one empty container for refills.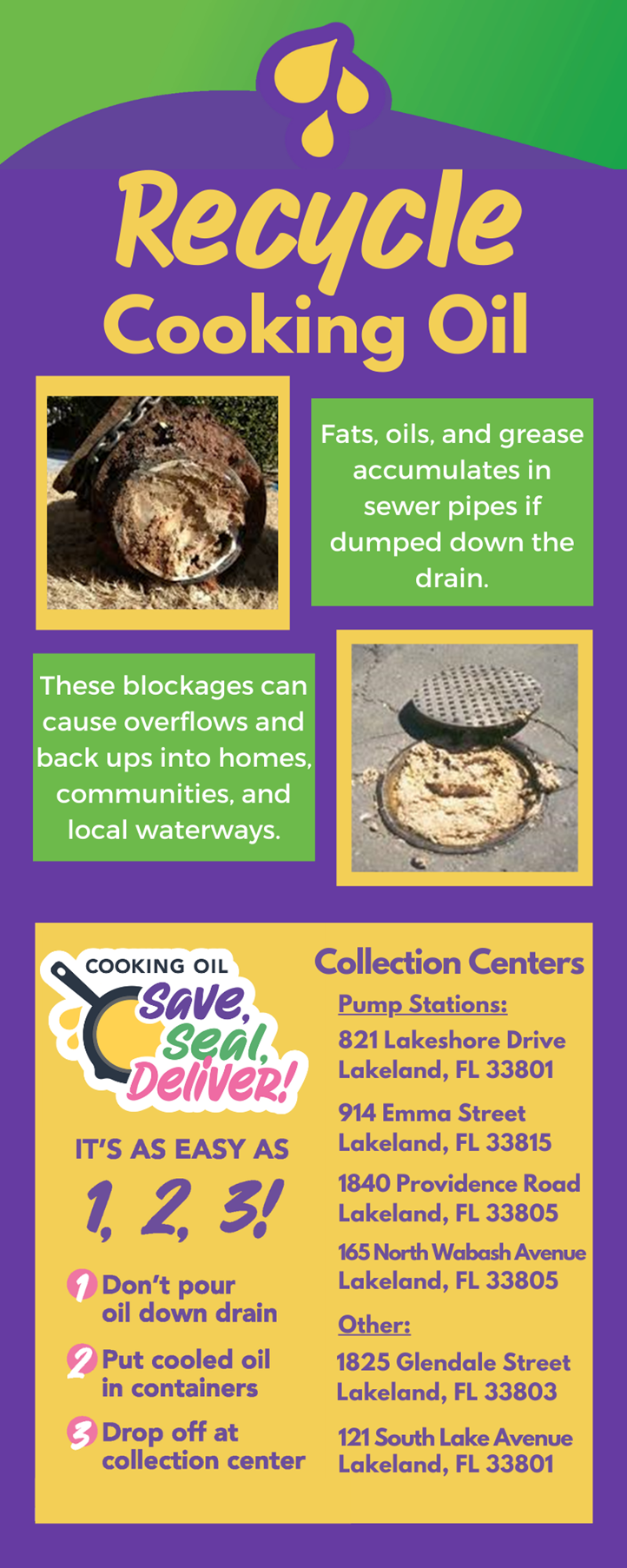 ---
Locations
Bring your Cooking Oil Recycling Effort container of used cooking oil and grease to one of these locations at any time.  Look for the brightly-colored, free-standing cabinet with the City of Lakeland Cooking Oil Recycling Effort label. See map and list of locations below.
Pump Stations
Emma Street Pump Station- 914 Emma Street, Lakeland, FL 33815
Lakeshore Drive Pump Station- 821 Lakeshore Drive, Lakeland, FL 33801
North Wabash Avenue Pump Station- 165 North Wabash Avenue, Lakeland, FL 33815
Providence Road Pump Station- 1840 Providence Road, Lakeland, FL 33805
Other Locations
Glendale Wastewater Reclamation Facility- 1825 Glendale Street, Lakeland, FL 33803
Lake Mirror Plaza- 121 South Lake Avenue, Lakeland, FL 33801
---
What is a Pump Station?