Sewer Line Extension Project Will Impact Intersection at N. Chestnut Road and Chestnut Woods Drive
---
LAKELAND, FL (February 24, 2020) | Starting on Monday, March 2nd, City of Lakeland Wastewater Collection crews will begin constructing a sewer line extension across the intersection of North Chestnut Road and Chestnut Woods Drive. At the same time of this project Water Distribution will be working in conjunction with Waste Water Collection to relocate a water main.  This project is estimated to take approximately two weeks. The $20,000 cost of the project is being passed to the property owner who is requesting City sewer service on their property of the east side of Chestnut Woods Drive.
North Chestnut Road will be closed at Chestnut Woods Drive for the duration of the construction. Chestnut Woods Drive will be available for local traffic only during the construction project.  Access to Chestnut Woods Drive will be from the north side of the intersection. Once the trench has been backfilled and the pavement repaired on the south side, then access to Chestnut Woods Drive will be provided from the south side of the intersection while pavement repairs are completed on the north side of the project.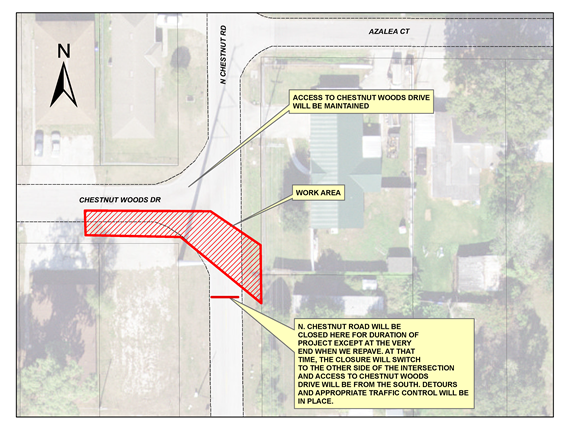 Contact
---
About Lakeland
The City of Lakeland was incorporated in January 1885 and has grown to become one of the largest inland communities in Florida.  With a current population over 100,000, Lakeland continues to grow. It has been designated a Standard Metropolitan Statistical Area by the US Census Bureau for over 30 years.  With tourist attractions and gulf beaches only an hour away, Lakeland continues to capitalize on its ideal central Florida location along the I-4 corridor.  The City owns and operates Lakeland Electric, the third-largest publicly owned utility in Florida and it was one of the first to offer power in the Sunshine State over 110 years ago.
For additional information about the City of Lakeland, please explore lakelandgov.net.
Citizens are also invited to follow the City on social media. 
---